Through Culture We Connect the Dots of a Divided Society
Center Dialogue: A Culture Under Pressure - The Position of Artists and Culture in Our Towns and Municipalities (6 October 2020)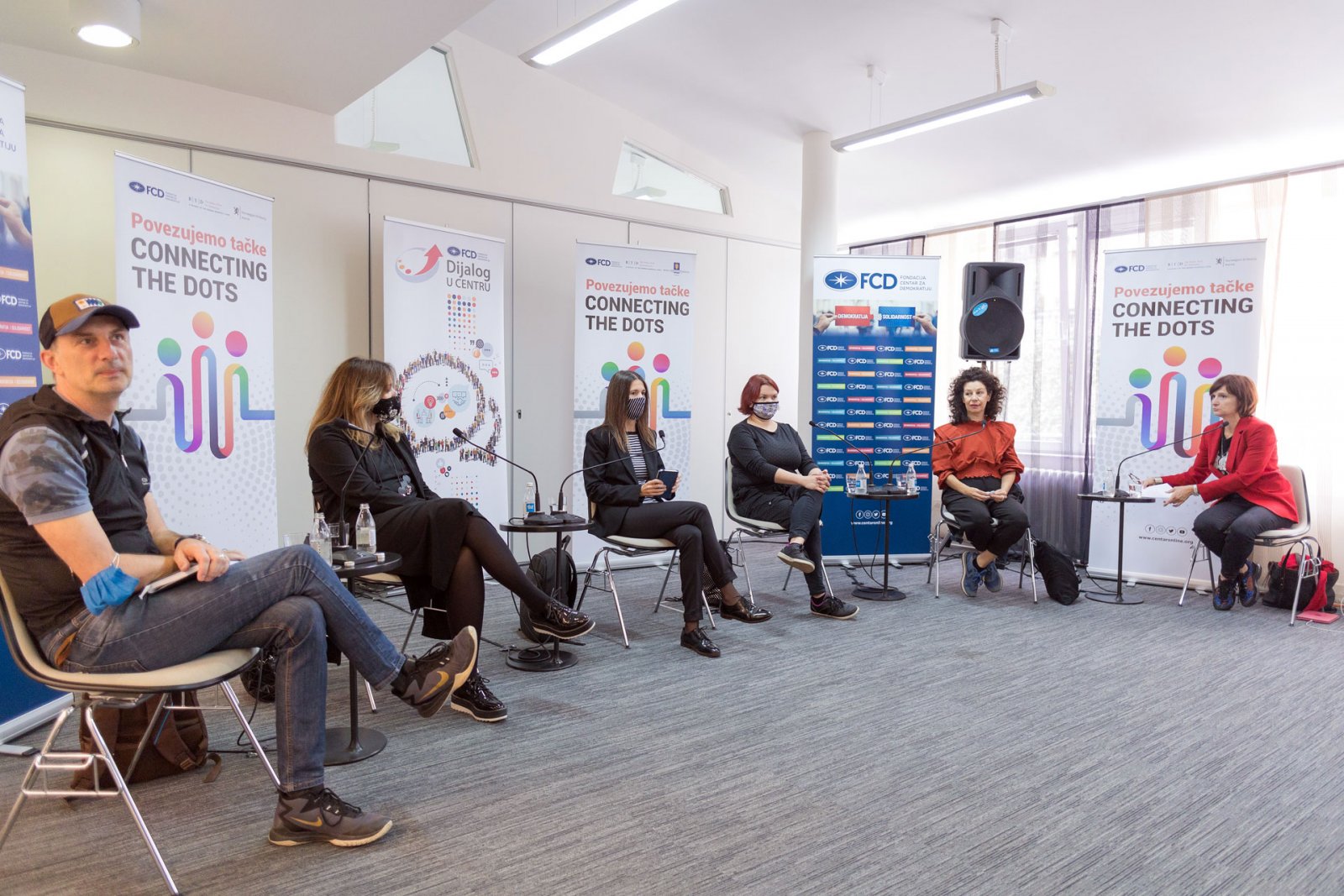 Vesna Marjanović greeted those present in the hall from which the livestream was transmitted, as well as the large number of people following the debate via ZOOM and the Foundation's Facebook page. She highlighted that the Center for Democracy Foundation has a longstanding tradition of nurturing public dialogue, and it seems to us that today is a time of huge social and political divisions, a time when it is ever more necessary to nurture public dialogue, argumentative debates, peaceful talks that look to the future and to finding solutions. This is why the debate is taking place as part of the Connecting the Dots project, which aims to connect those 'broken' segments of society. The Center for Democracy Foundation primarily deals with social, economic and cultural rights, and for this reason a portion of this debate will be dedicated to the social position of artists, and all the consequences of the COVID-19 pandemic and the political and economic crisis which impacted the work of cultural institutions and artists. And in recalling that Serbia marked its 20th anniversary of the democratic changes which took place on the fifth of October, during her introduction she asked the participants to say a few words about what this date meant to them then and what it means to them now. Did we win our freedom, only to lose it today?
Marijana Cvetković highlighted that this date marks the large collective downfall of us all as a society, in terms of our misunderstanding of this historical moment. I feel like a repeat student who has received another chance to face the same questions and finally pass the exam, she said. Minja Bogavac turned 18 in 2000, she enrolled at the Faculty of Dramatic Arts and voted for the first time that year. Regardless of all that was learned later and of any possible historical analysis, for me, the fifth of October was a fantastic entry into adulthood, into what we call 'life'. Regardless of what happened later, I don't allow this space in me, this memory to be tampered with, and the fifth of October is a very important and dear date to me, she said. Nela Tonković said that for her, the fifth of October 20 years ago and today are very different dates. I used to celebrate this date with friends. Now, yesterday's fifth of October represents a huge question mark that may best be described in Miljković's verses: "Will freedom be capable of singing about itself as well as the slaves." To my mind, we were not always able to sing, but we had won back our freedom. Lidija Jovanović sincerely believes that revolutions take place in societies that have faltered, such as ours. But, as history has taught us, every revolution has its twists and turns, which are not always fair and don't always bring everyone what they expect, but this makes sense, as not everyone was on the streets that day for the same reasons. The good news is that we did have a few years of momentum and the feeling that things are changing, yet it ended such that all of us have been pushed into our own bleak corners, that I hope we will be able to pull ourselves out of through revolution. Nikola Krstović - to me, the fifth of October now seems like when you experience a phenomenal orgasm, and then wake up in the morning and realise you have to brush your teeth and eat breakfast. Historically, the fifth of October really is a significant date, but the sixth of October seems like one, ever-lasting day and that feeling of emptiness which replaced the great momentum we felt is still with us, even today.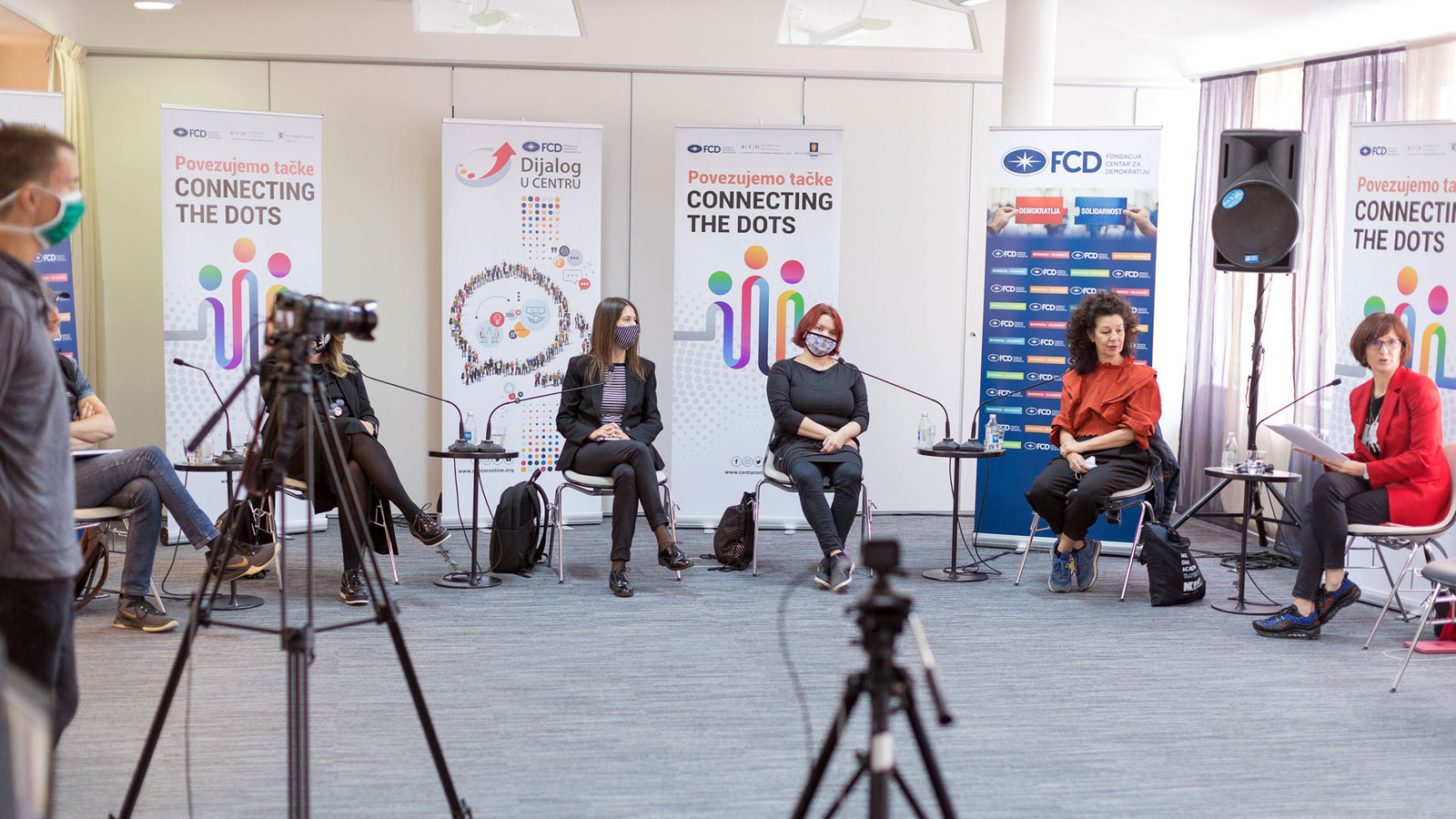 Vesna Marjanović presented the Secretary General of Europa Nostra, Sneška Quaedvlieg-Mihailović, by reading one of her quotes: "I firmly believe that cultural heritage renewal projects have the power to help communities reunite, heal wounds, encourage social cohesion and collaboration, and foster positive energy where new ideas can flourish." For me, the fifth of October was a feeling of liberation from a great hardship, that I no longer had to justify what Serbia is to Europe, she reminded. A sense of happiness, pride and responsibility - to continue the process that started then, to resist the pressures on democracy and to fight for European values. My mission is to do this by protecting cultural heritage. Despite all the pressures, I believe that united, together, we can make progress and win small victories that will lead to a fundamental revival and to putting culture in its rightful place, and this, as the 'gold mine' of every society and state, is something that ennobles and connects because it is very important to tear down walls and to build bridges. In Europe, we have lobbied quite successfully for the past 20 years for the EU to accept that culture is an integral part of the basic values for the future of Europe. Architectural culture, based on high quality, must also exist in Serbia, a balance between the protection of cultural heritage and modern construction. We cannot talk about sustainable development and the future of Europe if we do not jointly preserve the identity of a European society. The paradox is that Serbia, at least declaratively, strives to become a member of the EU, yet the least is said about the importance of culture and cultural heritage. Cultural heritage is under a great deal of strain, especially in larger urban areas, due to investment projects, the influence of money, without the participation of the people and experts. An example is Kalemegdan and the insane cable car project. Europa Nostra played the catalyst to unite the professional community and the public, who raised their voices, breaking through the wall of silence and fear. In this, I would like to see the encouragement to push forward a movement toward protecting Serbia's cultural heritage. If we unite, we can stop unjustified projects in their tracks. Today we have a new action, the Old Sava Bridge, also an insane project to 'dismantle' and relocate the bridge. Instead it too, should be a symbol of unification, as is Kalemegdan, and a symbol of the green transformation of Serbia on its path to Europe, which is the opposite of what is now being advocated as the urban development of Belgrade. This is also an opportunity to connect the world of culture, all areas of art, as this is a common struggle of all of us, we must support each other in solidarity.
To conclude, regardless of the pressures, all is not so bleak, we must join forces and then we can successfully fight for the 'Europe in our Serbia' and for 'Serbia in our Europe'.
It is important that the FCD initiated such a discission because all this is a matter of defending democracy, rule of law, social justice, a value system, integrity, and building bridges of trust. Connecting the Dots - it is very important that people from the world of culture connect with those who deal with sustainable development, climate change. The answer to all pressures is: Connecting the Dots, in Serbia, regionally and in Europe.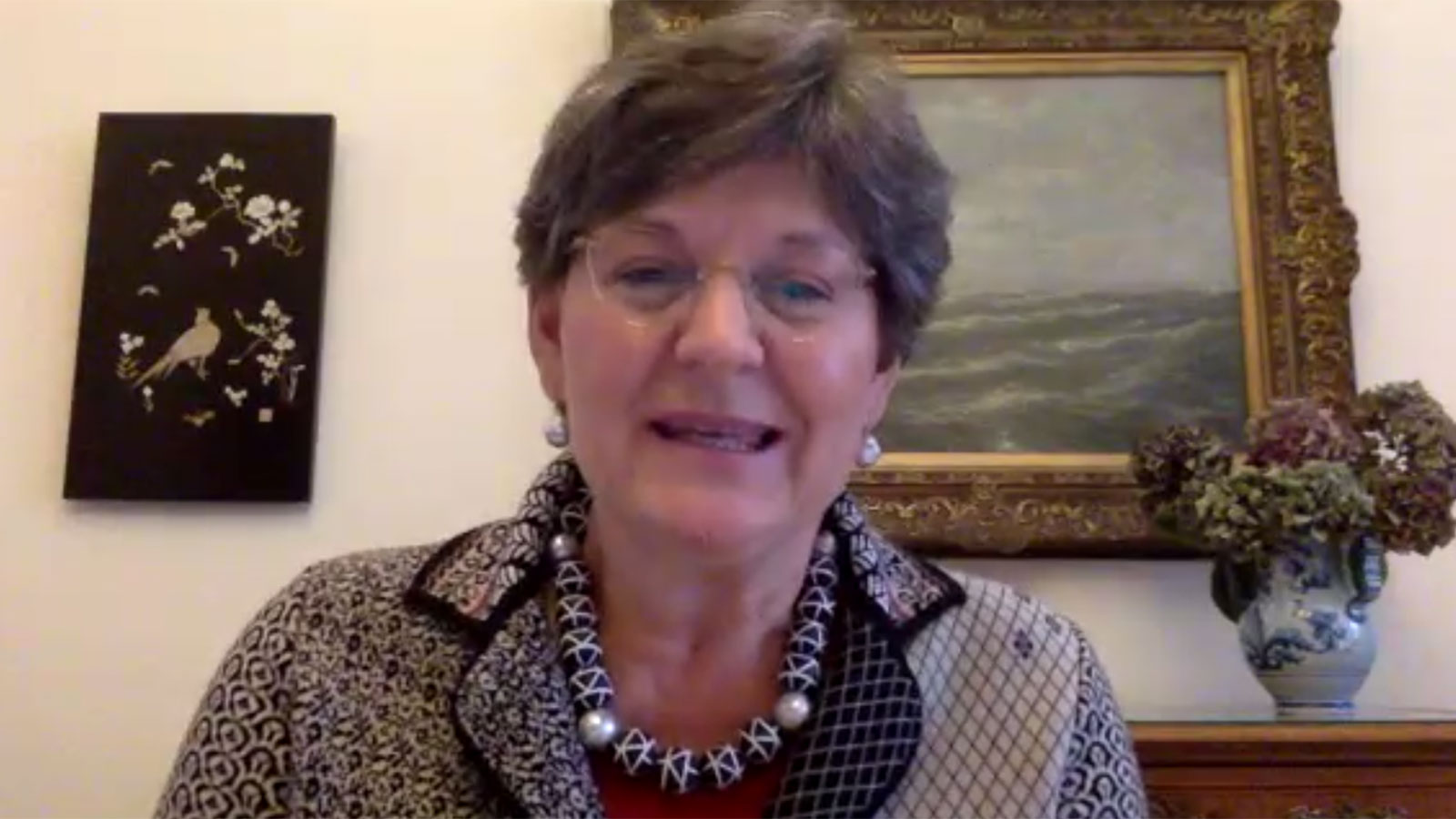 Nela Tonković, art historian, and managing director of the National Museum in Šabac, spoke about monuments in public spaces and the heated controversy over the latest monument to Stefan Nemanja to be installed in Sava Square. According to her, it seems that the public is divided; do we, as citizens, have an answer to what is happening? Now we're touching on politics, politicians govern through directives which are sent from the top, we then get a bunch of new monuments; admittedly the facades have been renovated, a series of interventions have taken place to turn Belgrade into a city that looks like some distant, megalomaniac country where monuments of this type are erected. Politics expresses its ideology through monuments, making it difficult to object to the Stefan Nemanja statue, because, as they say, he was the founder of the Serbian state, although historical sources say this is untrue. These new objects require our attention, perhaps our admiration even, but at the same time, they are accompanied by the process of erasing the urban fibre. There was a monument in Sava Square that was opened in 2012. It symbolised the relentless desire to commemorate the defenders of the homeland as well as victims of war. It was never accepted by the population but it became part of our modern times. A new monument is now being inaugurated without any citizenry participation in the decision-making process.
We have a different example, in the town of Šabac, where I work. A series of workshops had been organised for the general population called 'The Culture of Remembering' and through the conversations held here, young architects came to a final solution for the town square, which is now a space freely used by the townspeople and a space that was created to suit their needs. The question is - what are we ready to fight for? In the case of the monument to Stefan Nemanja, initiatives that oppose the statue are now active. They were not active when the statue's installation was still just an idea. The question is also, what we will do with it later? It is a megastructure, the height of a seven-story building with a galimatias of meaning, telling us nothing essential about our society. The past should be commemorated differently.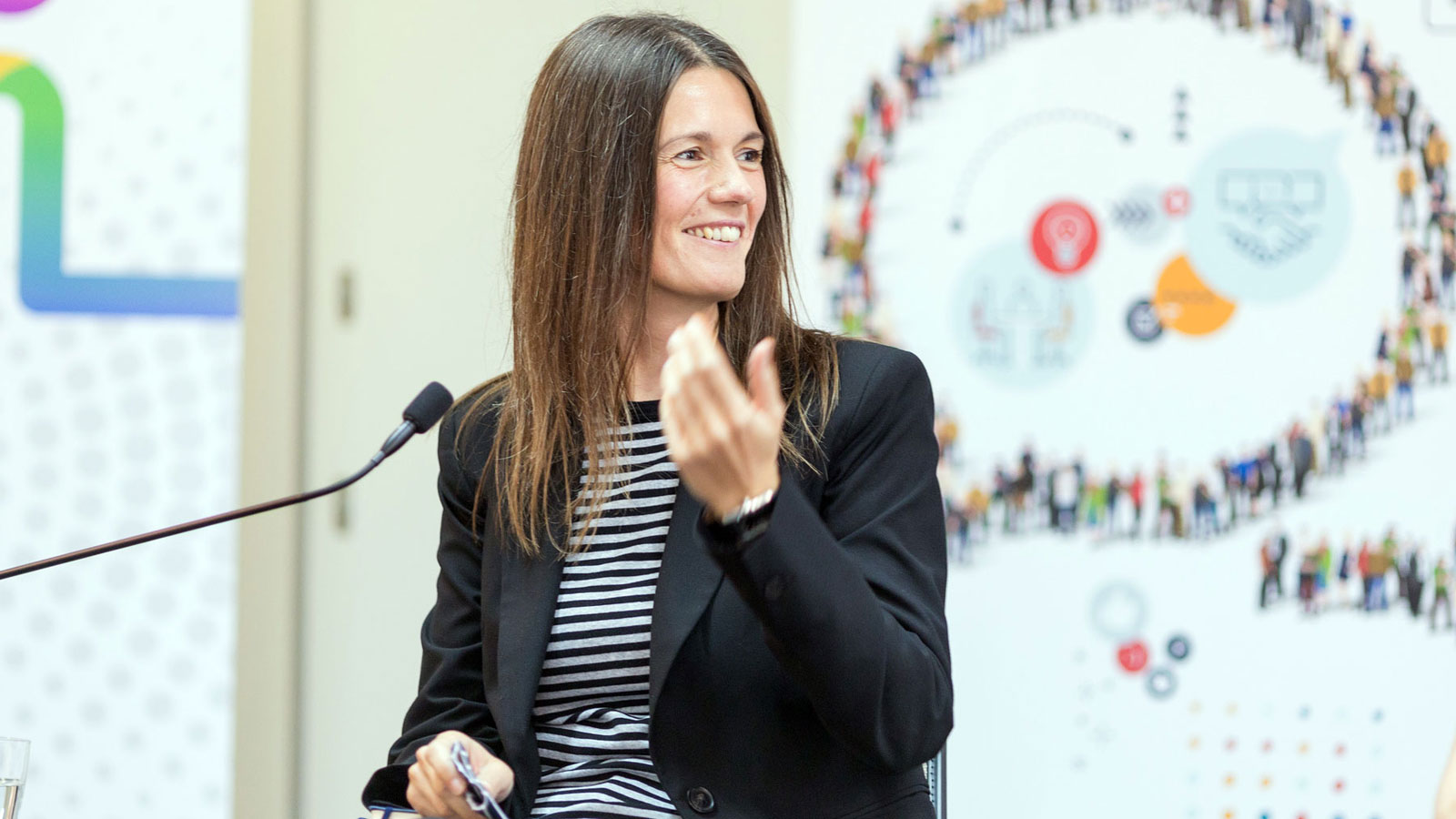 Jasminko Halilović, founder of the War Childhood Museum, who found himself of the Forbes' list of '30 under 30' of the most influential people in the world under the age of thirty, said that culture is under pressure, particularly the museums, especially in the context of the corona virus pandemic. Even before the pandemic, we thought about an entrepreneurial approach to museum maintenance, about self-sustainability, about the application of new management models in cultural institutions. Sources of income come mostly from the state, are insufficient, often conditioned by political pressure, yet they also bring some security. We are a public space, our actions are conditioned by contacts with the public, which is not possible now due to the pandemic. When there is no activity, it is difficult to face the donors and ask for funds. They have also redirected their funds to the healthcare system and to other sectors. The issues caused by the pandemic therefore come from two fronts - no activity and no funding. Our War Childhood Museum and independent cultural institutions are under pressure - politicians have used the corona virus pandemic to strike a blow at independent culture by directing funding to national cultures, to the marginalisation of secular culture. National culture and religious community projects are now 'in fashion' among politicians. The situation in Sarajevo is somewhat better than in other parts, but the whole region, the world even, are all facing similar issues and challenges. Leaders do not see the importance of culture, especially in terms of its independence. This is the case in many countries. Measures that will help the economy are being talked about, and we do not think about how important our institutions are to the state, even from an economic viewpoint. We bring money into the country from abroad. It is questionable as to how we will be able to restore the dignity of our institutions and of our colleagues. I would add that we too should create pressure - to work on remaining strong. Culture cannot bend its back before politics, we have no right to do that, we are the preservers of our society's cultural and historical heritage.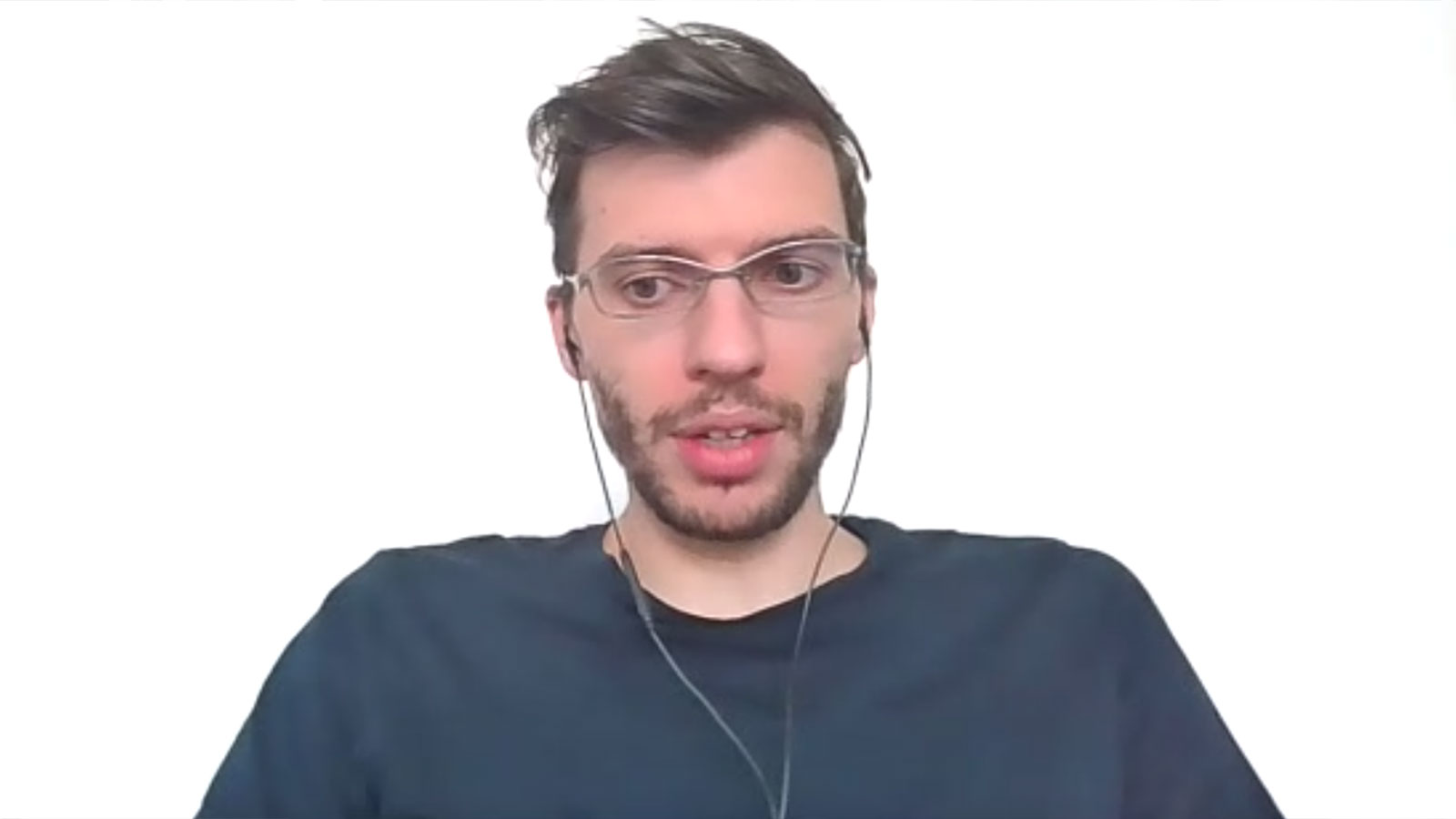 Minja Bogavac, playwright and managing director of the Šabac Theatre (founder of the Reflector Theatre) believes that we have been whining about various issues over the last 20 years, but from the perspective of this year, all of that seems like a wonderful, happy period. The pandemic and everything it has brought with it has pulled the rug from under the feet of our art, it takes theatres a long time to come up with new ways of addressing the public. It is difficult for us to accept this new reality. We try to compromise, but it seems to me that we are quite clumsy in these attempts. The measures and instructions we have received delegate responsibility to the individuals who run the theatres. My wish was to try, at least, in one institution, to increase the level of importance of the independent scene, as a fantastic team of staff has been created from it, often comprised of performers and directors and authors and producers. There would indeed be something to be learned there, but the institutions must agree to a fairer distribution of resources. The impression is that the institutions, like fortresses, are closed. And the term 'institutional' is equated with 'professional', and the independent scene is no less professional, it is perhaps even more professional, as it sees the bigger picture. Now, due to the pandemic, the losses of institutional theatres are in the millions, but this is not the case with the independent scene, because when you start from ground zero you have nowhere to go but up, and we were much more flexible during the pandemic, more resourceful, but with much less certainty.
Times are extremely tough; the responsibility and role of cultural workers is to try to instil hope within the social sphere. This is an opportunity to close the gap between the institutional and independent scene, we have to adapt or we will simply cease to exist.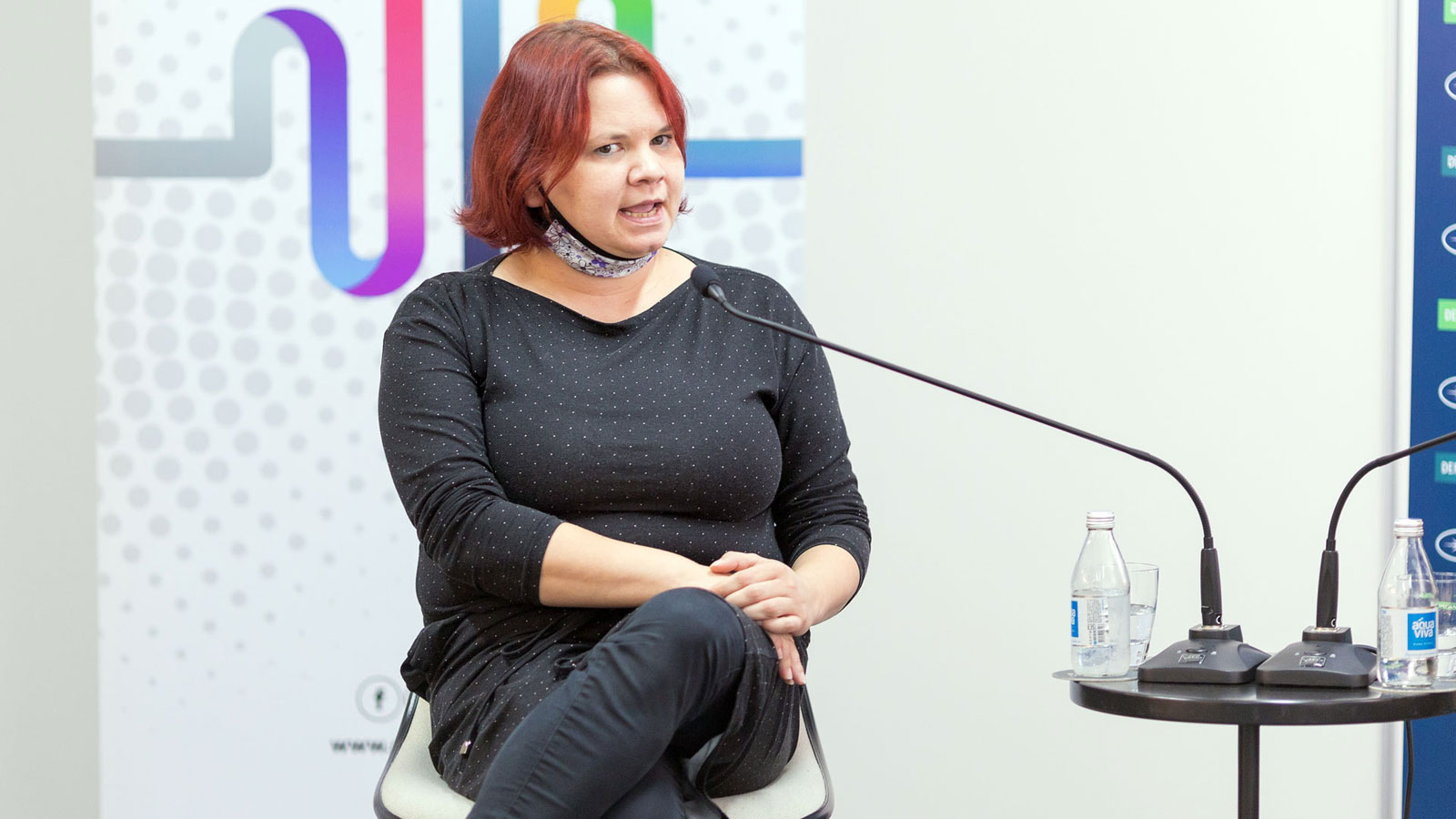 Predrag Ličina, a director and writer from Zagreb, began his presentation with a joke, emphasising that he is most competent to compare the monuments of our two capitals. In Zagreb, Milan Bandić built a large monument to Tuđman, and across the street he decided to erect a monument to his homeland, which looks like a bench from which smoke emerges, there will be fog, so he 'sold fog to the people' [In English: an idiom similar in meaning to: he sold magic beans to the people]. As society is terribly polarised, we may not even know that there are numerous people out there who think this is all ok. There is no computer programme which determines what is and what is not kitsch and trash. Our two cities are alike. The cubes in Belgrade's Square, for example, a similar thing happened in Zagreb, Bandić built a fountain, but the buses could not turn around it so he had it demolished and built a "prettier and smaller" fountain. I believe that it is through my industry, the film industry, that people feel the most connected. But with the coming of the right-wing into power, e.g. in Slovenia, there is no money for film, not only for Slovenian film, but also for Croatian and Serbian films, as the new norm for creating and financing films in this region is through 'co-production' projects. Society has become so polarised that I don't see how it's possible to fight it at all.
In Croatia, the pandemic was most felt on the example of Rijeka, as the capital of culture this year, the project was under preparation for 3-4 years, and because of the pandemic, everything stopped. The situation globally is similar, many people have been left without work. The film industry is the most expensive, and therefore the most risky. Because of the crisis, plans have to change, filming has to be either postponed or stopped all together, the situation is sometimes very difficult.
Those who are enforcing these rules are ridiculous, for example, they say you can't have a concert for 100 people and at the same time you can have mass for 100 people. Then, there were the elections that took place in the middle of the pandemic, when everything was possible, and then five days after the elections were over, again it was not. These are all circumstances with which we have to cope.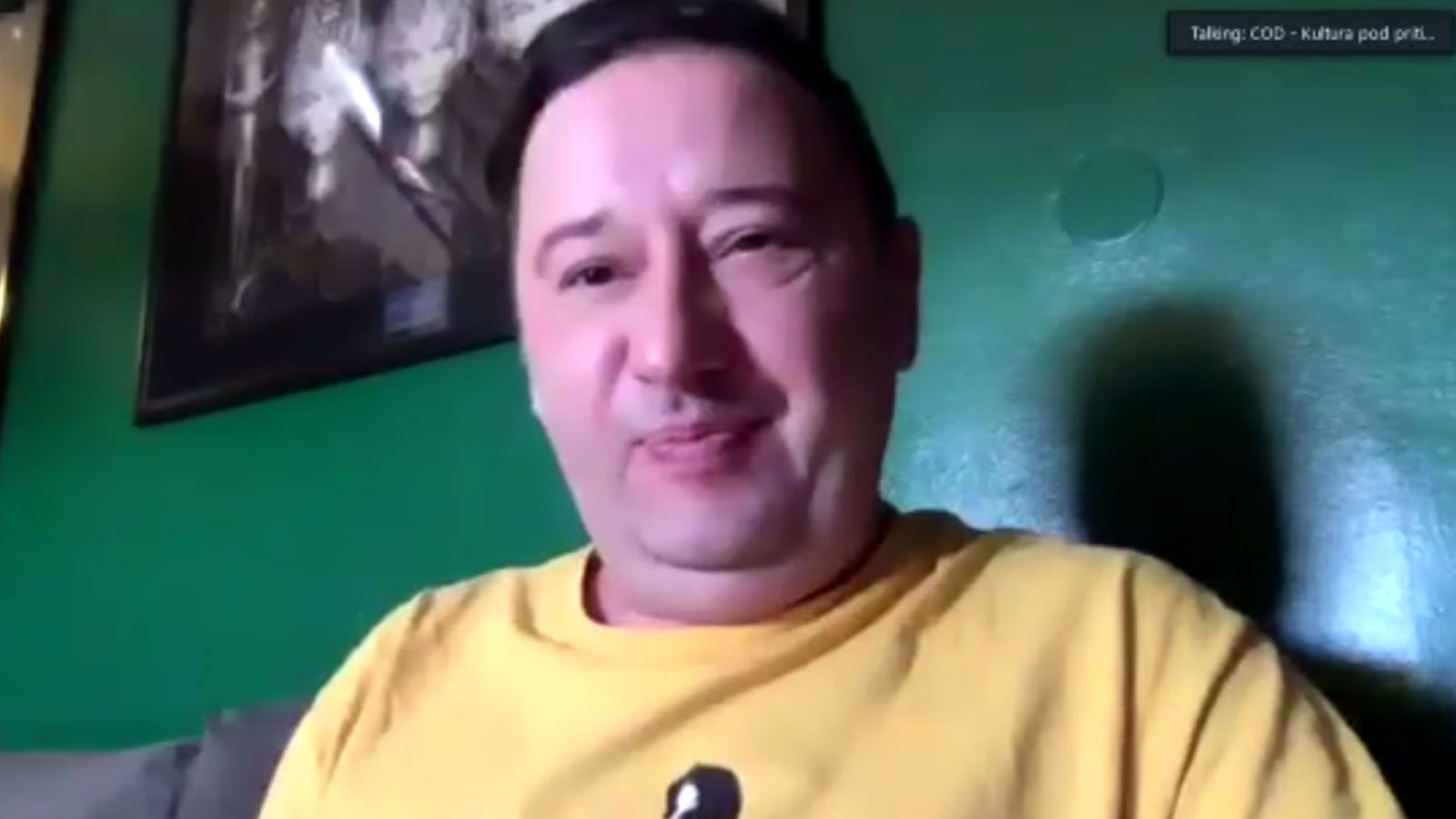 Ivan Lalić, the founder of the MIKSER festival which is currently under preparation, said that the festival is under pressure, but that things are under control. Mikser 2020 was created under surreal circumstances. We decided to take a step forward and move the event 25 km out of Belgrade into the countryside, in nature, where all measures are easier to apply. We created a format that combines offline and online, so there will be a small audience, but we will live stream the entire event as well. Another source of strain has been funding, the state offers little or no help at all to independent projects. In response, we have developed some alternative fundraising methods. The concept of this year's festival is moving toward the idea of sustainable development, the European Green Agreement will be the subject. This is a logical choice, especially in light of the current pandemic, which is, in a way, 'nature taking its revenge'. We look forward to combining classical disciplines with this approach. It's this mix that we suggest for the future.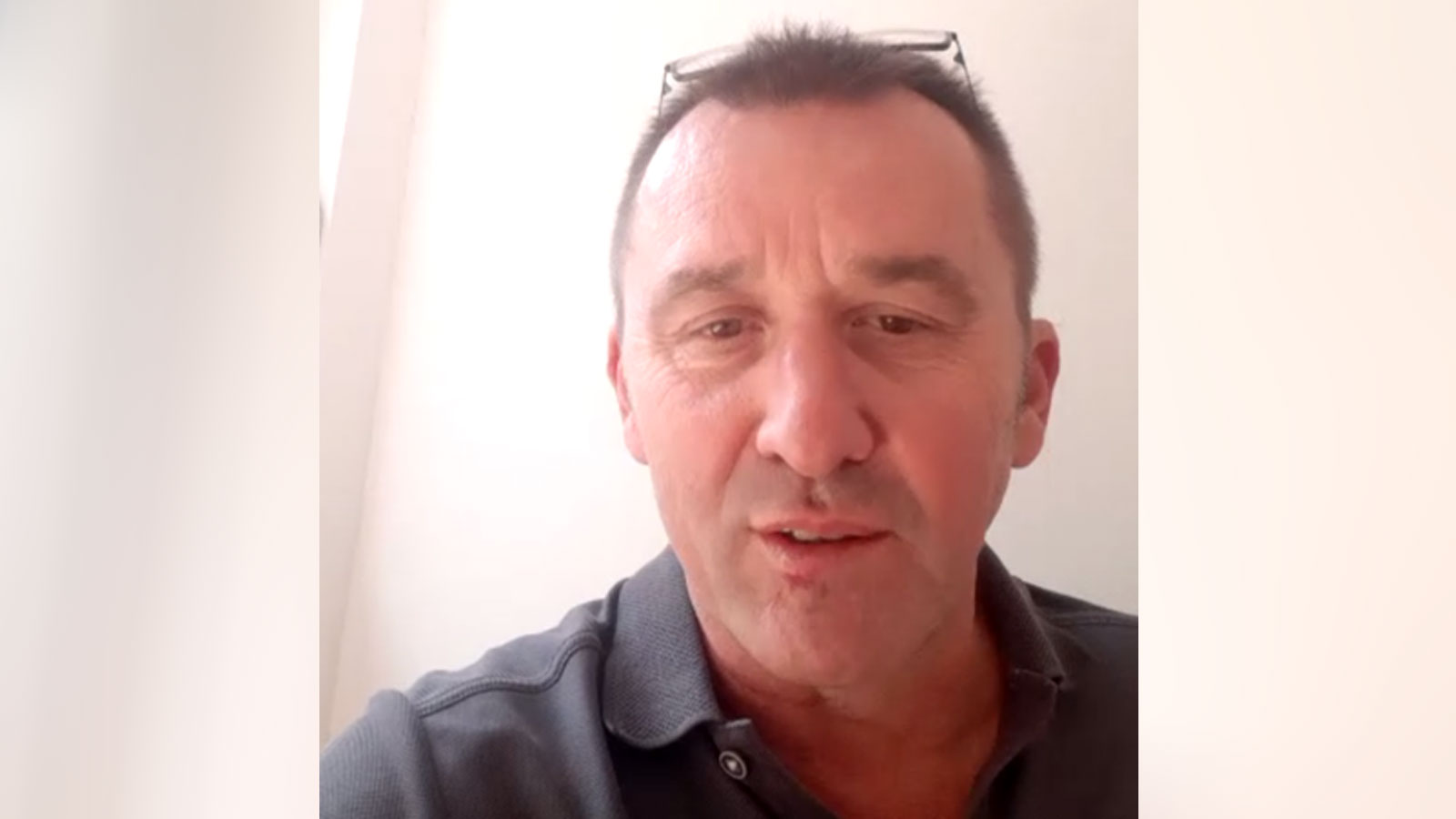 Nikola Krstović, curator, believes that the essence is in education and that young people want some sort of a system and structure. Of course, not dogmatic and closed approaches and systems, but after receiving a wonderful education at the University students need a system. Young people are leaving, the European system offers them the opportunity to monetise their knowledge. Knowledge and the application of knowledge are very important, and we in Serbia are missing out on this. There are big plans and a lot of big words being thrown around, yet small but essential things elude us. Cultural segmentation is no longer that important, and there are good forms of pressure, but there are also those which are extremely negative. It is the little, everyday things that are important; each step along the way, for example, the way in which one addresses a taxi driver or those who work at counters/tellers, you see a level of culture which demonstrates that things should be different. UNESCO is also quite undefined in terms of what culture is in fact, and we here have yet to agree on the meaning of culture, this is as clear as day. How did we come to the values we nurture and how do they reflect on the corpus of people who do not live and work in this branch, but feel culture as a kind of consequence of earlier times? To return to education, institutional culture, for example, museums, we have never had a clear system of competences, procedures, and thus awareness on how to behave toward the entire community, for example, museum security staff who act as though they belong to the National Security Agency. While young people are here, they need to at least demonstrate some sort of resistance, to establish some kind of system; this is integrity, through integrity to stop the trade of services, servitude, which is very difficult to do in Serbia. And the pandemic has only crystallised or exposed the real state of affairs. I am not advocating for any type of institutional dogma, but we must learn to function together, to connect the dots. In my opinion, a society's culture is the consequence of an existing system and the reestablishment of a new attitude towards this profession.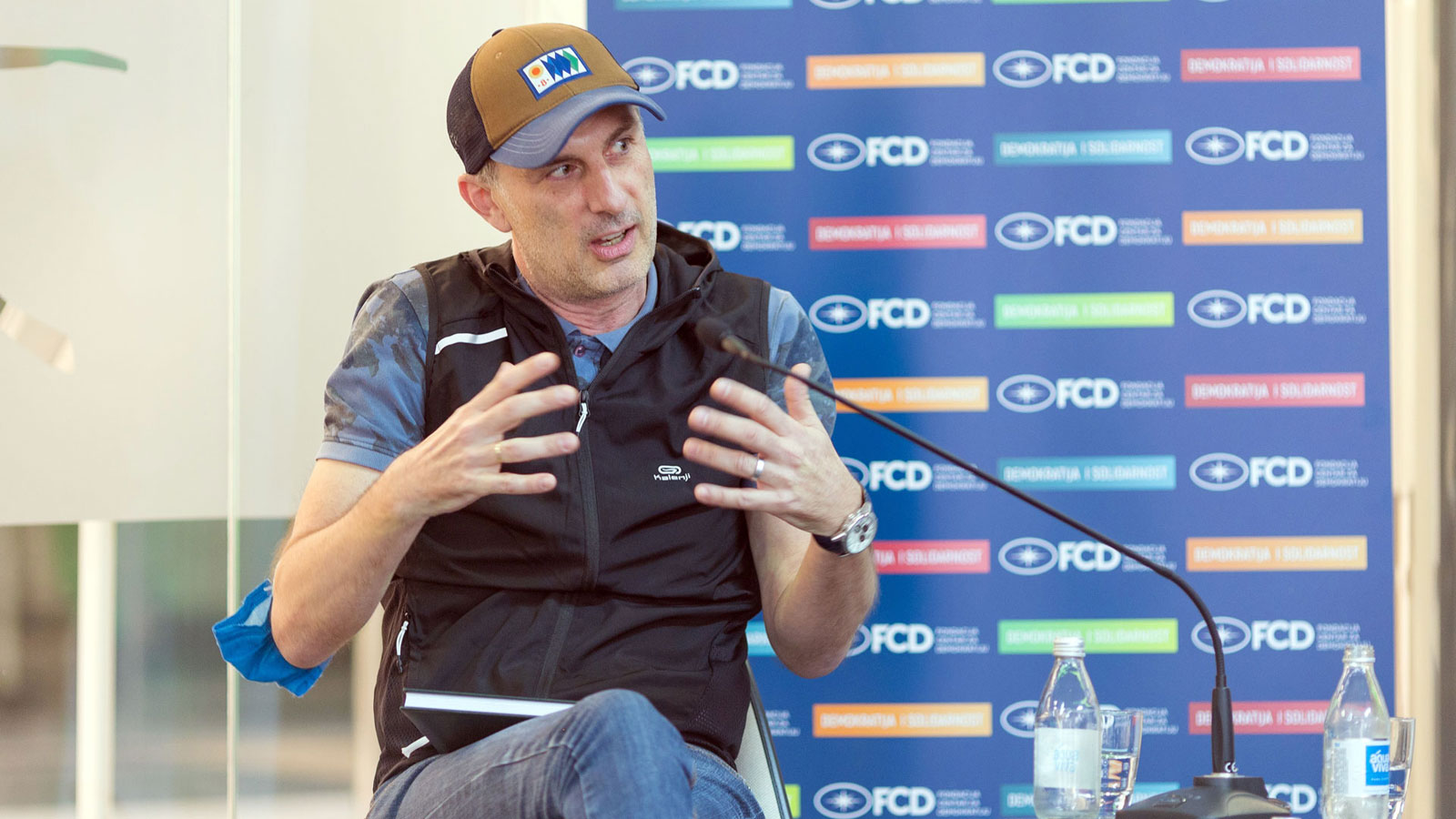 Marijana Cvetković, founder of the Station - Service for Contemporary Dance, spoke about the Solidarity Fund of Cultural Workers of Serbia, which was established when it was evident that the state would not be responding. A group of people got together and came up with an idea to create a small solidarity fund to help a few people overcome the crisis. Several associations joined forces, and we tried to devise a procedure based on solidarity. Almost 1,700 people applied for this form of assistance. The most difficult part of the job was reading all the applications, communicating with people, understanding the scope of the crisis and how wrong the system has been set up. Most people came from the cultural industry. And the model imposed on us from the state has proven to be the most destructive type of model, dangerous in fact, in times of crisis. Secondly, an immense number of actors applied from various theatres throughout Serbia, who received no aid from their local units of self-government. Thirdly, many got in touch just to say that they were happy that someone had initiated this action. People really need solidarity, yet they rarely come across it. Who are we, we who work in culture and what do we do? The key to getting out of this rut and the gap between institutional and independent culture is to understand that there is, in fact, no gap between us. The gap was created artificially by this system, making us easier to manipulate and we have accepted it without understanding its consequences i.e., living a harder life and working under immense pressure. I believe that together we will find the strength to make changes. Any cultural debate must at its core be about what we as humans actually do and what we should be doing, because it all depends on us, the institutions are not buildings, but the people who work in them. There is much for us to do, but first we need to understand that we are all 'in the same boat'.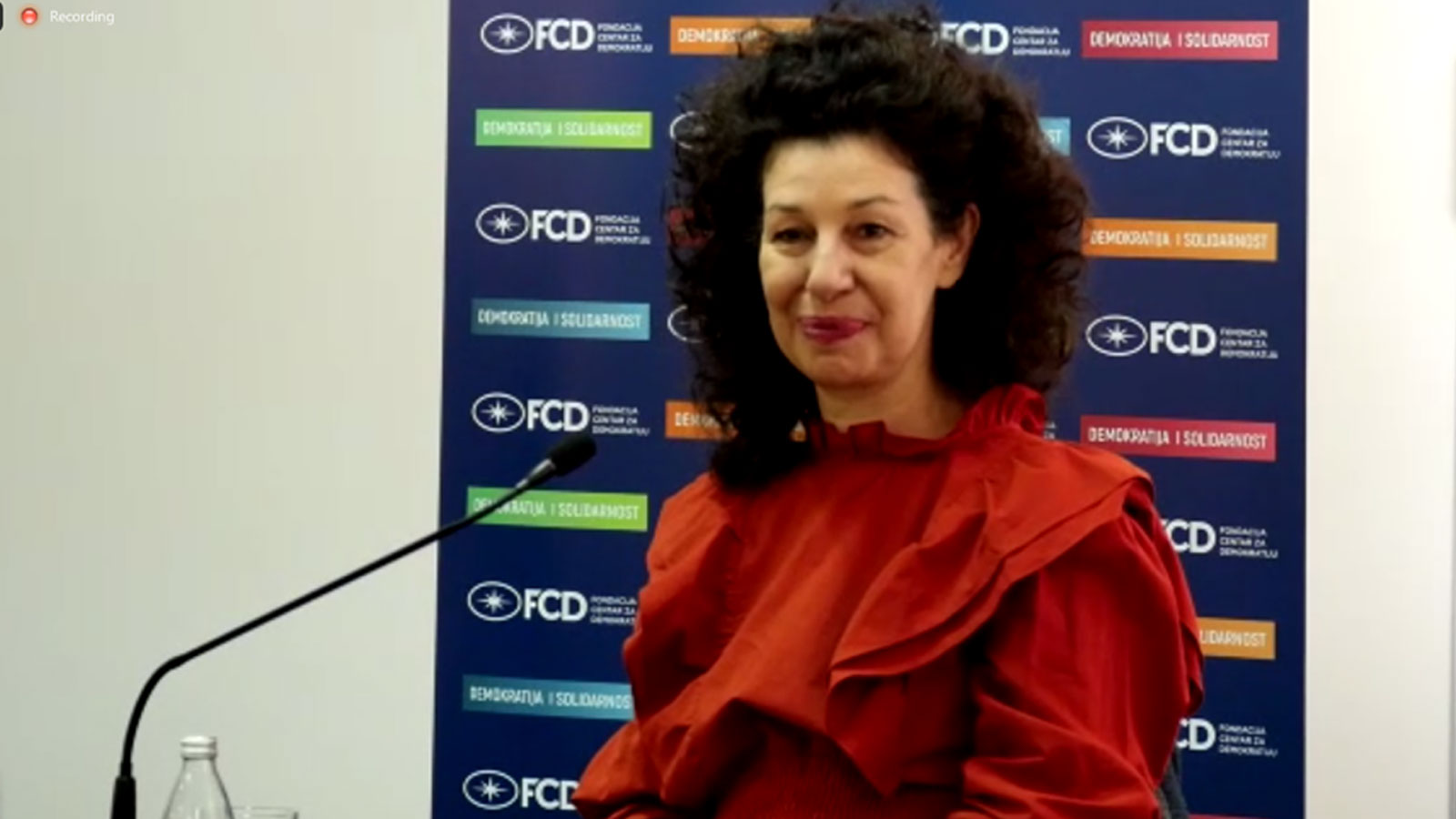 Lidija Jovanović, costume designer and president of ULUPUDS (Association of Fine Artists of Applied Arts and Designers of Serbia), pointed out the fact that things have changed a great deal over these past 20 years. From an association that worked on promoting its members artistically, we are now moving toward becoming a purely social institution. Many of our members don't receive the space they need for someone to take on the issue of their engagement, and we exist, that is to say, we cover all areas of artistic activity. I communicate with many of these artists, 70-80% of their issues are not of an artistic nature, but rather are exclusively existential. People are trapped in an existential problem. Secondly, regarding exhibitions, there are no free galleries in which one can is gone, which is a very important impulse factor for artists. What comes from working under pressure is this: instead of being the initiators of society, we have been reduced to a social category instead of dealing with art and producing new artistic value. Art/Culture is no longer the focus of society, the focus is on how to survive. The only thing I hope for is this: all previous world crises have brought cultural prosperity, and this will be the case again once the current crisis is over.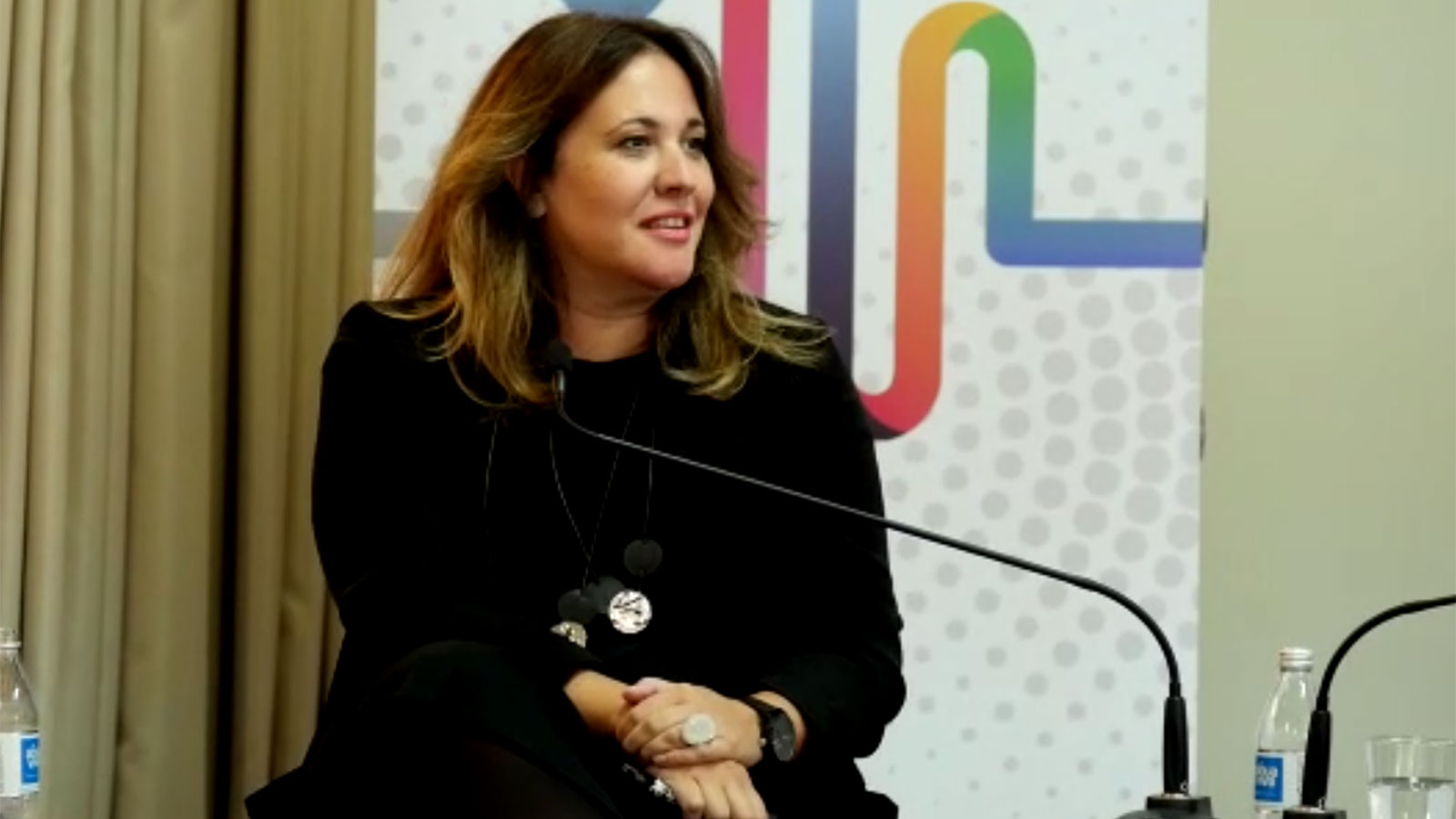 At the end of the presentation, Vesna Marjanović concluded that despite all the reasons for concern, it would not be good form to end on a pessimistic note. To come full circle, I would like to say that on the fifth of October political activists believed we had performed a miracle, and today things seem quite discouraging. But the fact is that democratic processes are, in fact, processes. Often long-term. And that is why it is necessary to adapt and not give up. This has crystallised in today's debate, as well. One thing is that we lack a sufficiently strong connected network of civil society organisations, artists and cultural institutions in the process of joining the EU, regardless of the Chapter that is closed in terms of this area. Regional connectivity is very important. After all, even in the worst of war times, artists were those who never burned bridges or broke off collaboration. A stronger degree of association of all areas and activities to do with culture is obviously needed. The fragmentation that we acknowledged in our earlier debates which exists within political parties, trade unions and in our society as a whole, is also present in the cultural sphere. The fear felt by the individuals discussed today is understandable in a situation where you have the feeling that you have no support. For this reason, association is important. A stronger voice in culture will provide this support or will in the very least be encouraging. The education of youths as well as adults is also very important. We need to use eloquence, creativity and the popularity of cultural representatives to send important messages. Many are already doing that, but today it is necessary to raise our voices against an the extremely toxic atmosphere that has been created. Today, people communicate through personal insults via the media, social media and in the public domain. And that is one form of 'unculture' that has become widely accepted, unfortunately. In this way, we communicate only among each other, we forget that we need to communicate with the people, both about the aesthetics and about what the monument to Stefan Nemanja, or any other project for that matter, means in terms of culture. Culture is not separate from the citizenry, as the people have the right to participate in cultural life, not only as passive observers. In conclusion, and perhaps most important, is the struggle to conquer the field of freedom. Without freedom there is no creativity, neither artistic nor any other form of free expression.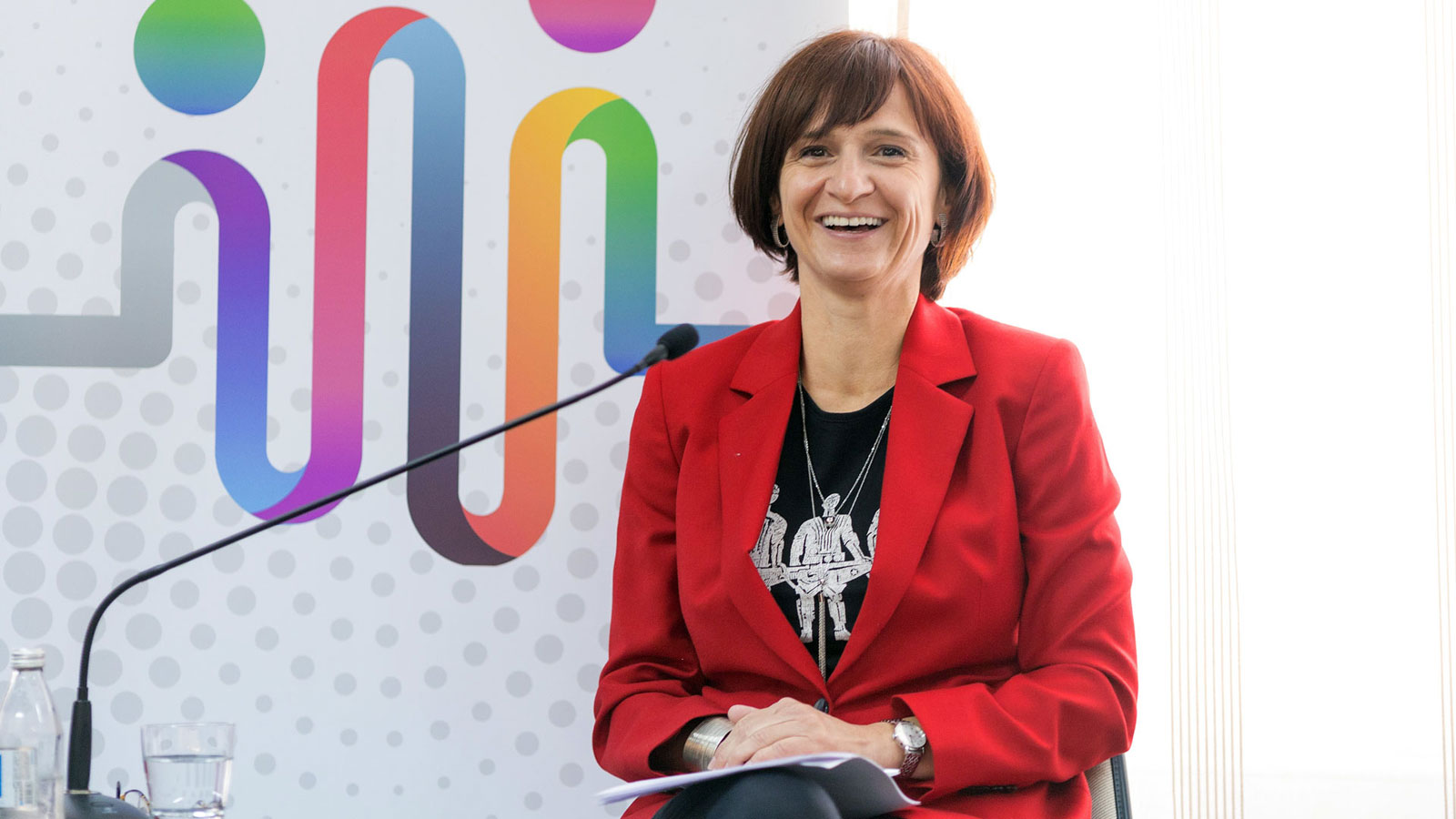 Center for Democracy Foundation
Video
Center Dialogue: A Culture Under Pressure - The Position of Artists and Culture in Our Towns and Municipalities