Our Results
Dedicated to Promoting EU values in Serbia
Along 25 years of operation, CDF has advocated for integration of Serbia into the EU, through strengthening of human resources and institutional capacities for democracy, rule of law and human rights.

CDF is highly competent in promoting EU values and policies on local level, with experience in development of human resources and institutional capacities.

It has a significant track record in advocating for public administration reform, particularly in the areas which are mostly important for citizens (good governance and EU standards implementation in local government, inspections reform, and recruitment and hiring practice in public sector).

Key Achievements 2017-2020

Public Reading of the EC Report on Serbia – Setting the Tone for Debating the Report, in cooperation with the EWB, (2019-2021)
Elected coordinator for the cross sectorial working group for the Berlin Process at the National Convention on the EU (NCEU) in 2021
Contributions for the EC Report on Serbia (annually)
Politeia Goes Regional organized in ReSPA for students from WB (2019-2021)
Established Regional Youth Forum through RYCE Project (2019)
Study visit to National Convention on the EU for BNLD (Balkan Network for Local Democracy) members as exchange tool for lessons learned in monitoring EU accession negotiations (2018)
International Conference Call to Europe in the Western Balkans on EU Elections Impact on the WB in cooperation with FEPS – Brussels (2018)
Launched advocacy initiative "European Social Fund for the WB" – amendment based on our initiative adopted by the Joint Parliamentary Committee of the EP and the NARS (2018)
Public campaign Justice Above Politics – Pravda iznad Politike® (2018)
National conference Towards a Democratically Change of the Constitution:Key stakeholders debating the change of the Constitution, with YUKOM, Belgrade Center for HR, Association of Judges, FOS and IPSOS (2017)
Monitoring report and recommendations on Employment and Fight against Corruption in Public Administration (2012-2017)
Advocating for a Stronger Social Dimension of the EU integration process
CDF is one of the leading organizations active in Serbia in the socio-economic field where CDF advocates for the policies of sustainable economic and social development policies, through a wide network of partners and associates, from trade unions to employers, and from academia to civil society.

By constantly increasing its expertise and experience in the monitoring of economic, social and labor rights in a changing economic environment and in the context of the development perspective, CDF influenced public policies through recommending modification of legal and institutional framework.

This expertise earned the CDF a position of a Chair of the Working group for monitoring Chapters 2 and 19 (Freedom of Movement for Workers and Social Policy and Employment) within the National Convention on the EU (NCEU), the largest CSOs umbrella organization in Serbia.

CDF directs its activities in the field of economic and social rights to the needs of vulnerable target groups, such as women, young people, elderly citizens, members of the LGBT community, etc. The Foundation has provided direct legal advice to more than 20,000 people.

Key Achievements 2018-2021

On-field survey "Precarious work in Serbia – report from a research", 2019;

Coordination of a coalition of NGOs for the National Strategy of Social Protection (2019) for the modification of the Social Protection Law and of the draft Strategy
Initiative for Intergenerational dialogue through workshops and focus groups (2019)
Analysis: Treatment of Older workers in European and national documents, legal and other regulations and the media, 2019.
Launched Platform against Cheap Work (2018) addressing the need for improved social dimension of the reforms

Analysis: Employment policies in Serbia - Encouraging (non) Decent work, 2018;

Statistics and Decent Work - A Critical Analysis of the Political Interpretation of Labour Statistics, 2017;

Desk Research: Women in Labour Market 2017;

Profiles of the Employed through Private Employment Agencies, in cooperation with the SIPRU Team for Social Inclusion and Reduction of Poverty (2017)
Pilot Platform for Monitoring of the Implementation of the Economic Reform Program- ERP and the Employment and Social Reform Program-ESRP (2017)
Promoting Public Dialogue
We bring together policy makers, experts, businessmen, journalists and social activists. Together we engage in debating key issues and search for common approaches in finding solutions.

The CDF Platform Dialogue in the Center is a place for public dialogue, where scholars, activists, politicians and analysts exchange their views on key strategic issues and development challenges

We participate in all relevant EU accession-related fora and events, such as in the meeting of the Joint Consultative Committee EU-Serbia on civil society and annual briefings at the EU Delegation on the EC report on Serbia.

Key Achievements 2018-2020

136 Public Debates since 2007 with 2950 participants
Through Synergy to Enlarged Impact in Youth Related Programs:established dialogue among CSOs networks in the Western Balkans (2018)

Issues Addressed:

Position of Foreign Workers in Serbia
Twenty years of Social Dialogue in Serbia
New law on Gender Equality
Where are Labour Rights on the Agendas of Political Parties?
Violence Against Women in the Public Space
Poverty and the Environment
Dedicated to Incorporating EU values in Serbia
Along 25 years of operation, CDF has advocated for integration of Serbia into the EU, through strengthening of human resources and institutional capacities for democracy, rule of law and human rights. CDF is highly competent in promoting EU values and policies on local level and further improved its capacities in the field of public administration reform, particularly in the areas which are mostly important for citizens (good governance and EU standards implementation in local government, inspections reform, and employment practice in public sector).

Key Achievements 2017-2019

Public Reading of the EC Progress Report on Serbia – Setting the Tone for Debating the Report, in cooperation with the EWB, (2019)
Contributions for the EC Progress Report (annually)
Politeia Goes Regional organized in ReSPA for students from WB (2019)
Established Regional Youth Forum through RYCE Project (2019)
Study visit to National Convention on the EU for BNLD (Balkan Network for Local Democracy) members as exchange tool for lessons learned in monitoring EU accession negotiations (2018)
International Conference Call to Europe in the Western Balkans on EU Elections Impact on the WB in cooperation with FEPS – Brussels (2018)
Launched advocacy initiative "European Social Fund for the WB" – amendment based on our initiative adopted by the Joint Parliamentary Committee of the EP and the NAPS (2018)
Public campaign Justice Above Politics – Pravda iznad Politike® (2018)
National conference Towards a Democratically Change of the Constitution:Key stakeholders debating the change of the Constitution, with YUKOM, Belgrade Center for HR, Association of Judges, FOS and IPSOS (2017)
Monitoring report and recommendations on Employment and Fight against Corruption in Public Administration (2012-2017)
Advocating for Social Dimension of the EU integration process
CDF is one of the leading organizations in Serbia in the socio-economic field where, through a wide network of partners and associates, from trade unions to employers, and from academia to civil society, CDF advocates for the policies of sustainable economic and social development.

By constantly increasing its expertise and experience in the monitoring of economic, social and labor rights in a changing economic environment and in the context of the development perspective, CDF influenced public policies through recommending modification of legal and institutional framework.

This expertise earned the CDF a position of a Chair of the Working group for monitoring Chapters 2 and 19 (Free Movement of Workers and Employment and Social Policy) within the National Convention on the EU (NCEU), the largest CSOs umbrella organization in Serbia.

CDF directs its activities in the field of economic and social rights to the needs of vulnerable target groups, such as women, young people, elderly citizens, members of the LGBT community, etc. The Foundation has provided direct legal advice to more than 20,000 people.

Key Achievements 2017-2019

Analysis: Draft Action Plan for Chapter 19 – Employment and Social Policy (2019)
Annual Report on the Status of Labour Rights in Serbia (2018, 2019)

On-field survey "Precarious work in Serbia – report from a research", 2019;

Coordination of a coalition of NGOs for the National Strategy of Social Protection (2019) with analysis of the draft Strategy and draft Law on Social Protection
Initiative for Intergenerational dialogue through workshops and focus groups (2019)
Analysis: Treatment of Older workers in European and national documents, legal and other regulations and the media, 2019.
Launched Platform against Cheap Work (2018) addressing the need for improved social dimension of the reforms

Analysis: Employment policies in Serbia - Encouraging (non) Decent work, 2018;

Statistics and Decent Work - A Critical Analysis of the Political Interpretation of Labour Statistics, 2017;

Desk Research: Women in Labour Market 2017;

Profiles of the Employed through Private Employment Agencies, in cooperation with the SIPRU Team for Social Inclusion and Reduction of Poverty (2017)
Pilot Platform for Monitoring of the Implementation of the Economic Reform Program- ERP and the Employment and Social Reform Program-ESRP (2017)
Citizens for Inspections Reform: 5 new mobile & web applications created "Green Inspector ", "Inspector Citizen ", "Invisible Worker"(2016-2017).
Promoting Public Dialogue
We bring together policy makers, experts, businessmen, journalists and social activists. Together we engage in debating key issues and search for common approaches in finding solutions

The CDF Platform Dialogue in the Center is a place for public dialogue, where scholars, activists, politicians and analysts exchange their views on key strategic issues and development challenges.

Key Achievements 2017-2019

106 Public Debates since 2007 with 2780 participants
Through Synergy to Enlarged Impact in Youth Related Programs:established dialogue among CSOs networks in the Western Balkans (2018)

Issues Addressed in 2019:

Towards a Political Solution - Civic Protests as a Response to a Deficit of Justice and Weak Institutions
Where are Labour Rights on the Agendas of Political Parties?
Europe ahead of Elections – The New Session of the European Parliament
Violence Against Women in the Public Space
Poverty and the Environment
Today's Civil Society – NGO or GONGO, Watchdog or Strategic Partner, Think-Tank or Do-Tank
Expected Results Important events to come in 2020
Dialogue in the Center 7 debates in Belgrade and 3 local debates on issues relevant for the accession negotiations in cooperation with the EU Info Center, along 2020
Launch of the Society Wide Platform for Sustainable Development Goals and national conference, March 2020
Developed methodology for monitoring social impact of reforms – with Manual for CSOs, and final Conference in June 2020
Sub-granting program Youth Fund "We Have a Say!" - support to local youth organizations fostering active citizenship and participation of young people at the local level.
Politeia Western Balkan School for Youth Participation, September 2020
Capacity building trainings for trade unions and civil society organizations
Labour Rights in Serbia - Report and Conference in December 2020
Shadow report on Social Reforms, October 2020
Conference: Rule of Law and Fundamental Rights as key elements in socio-economic development planning and delivery of reforms, in November 2020.
Regional internship program for students (RYCE project)
Mainstreaming gender equality locally: In-depth analyses of local development plans and local plans for gender equality in 9 municipalities
Desk research: Employment practices in public sector – in search for open and accountable institution
Profile and Key Achievements 2017-2019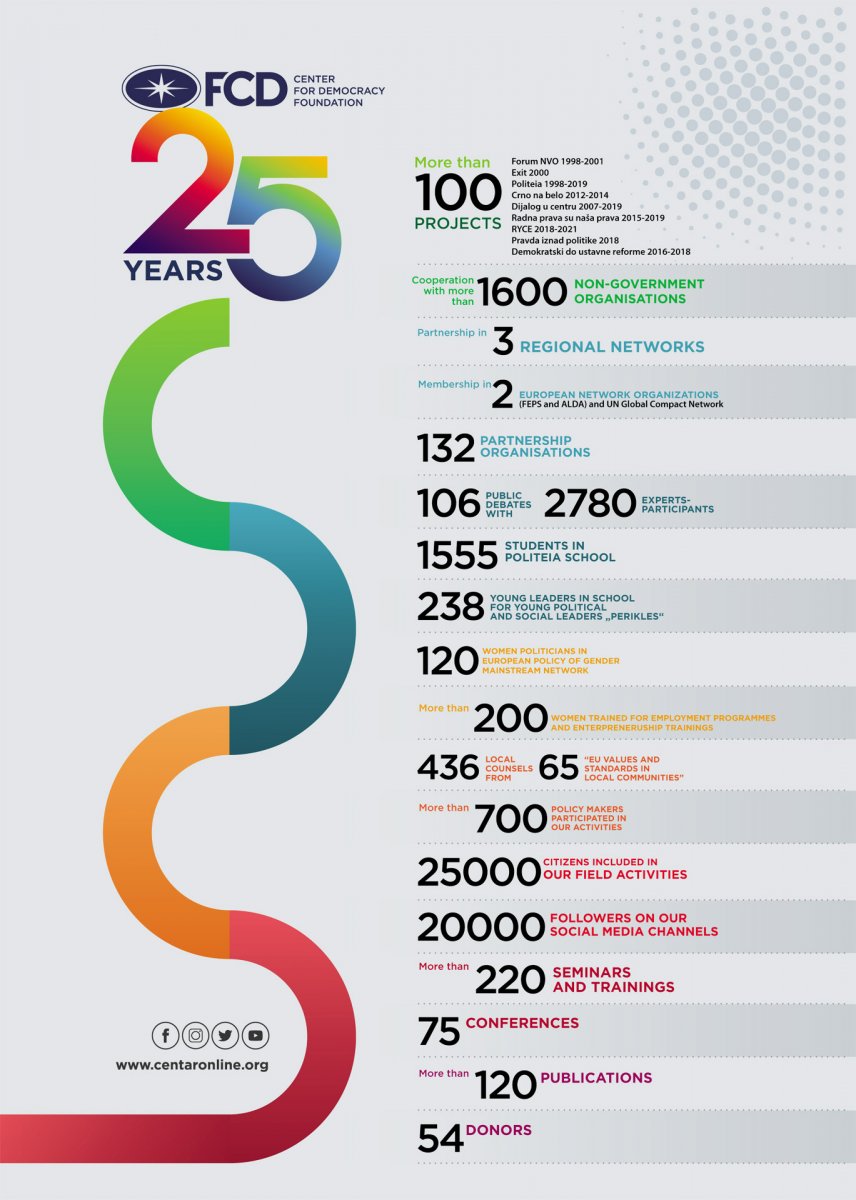 Annual Report 2019