'Patronage Appointment and Discrimination' Debate
CENTER DIALOGUE – SOCIAL DIALOGUE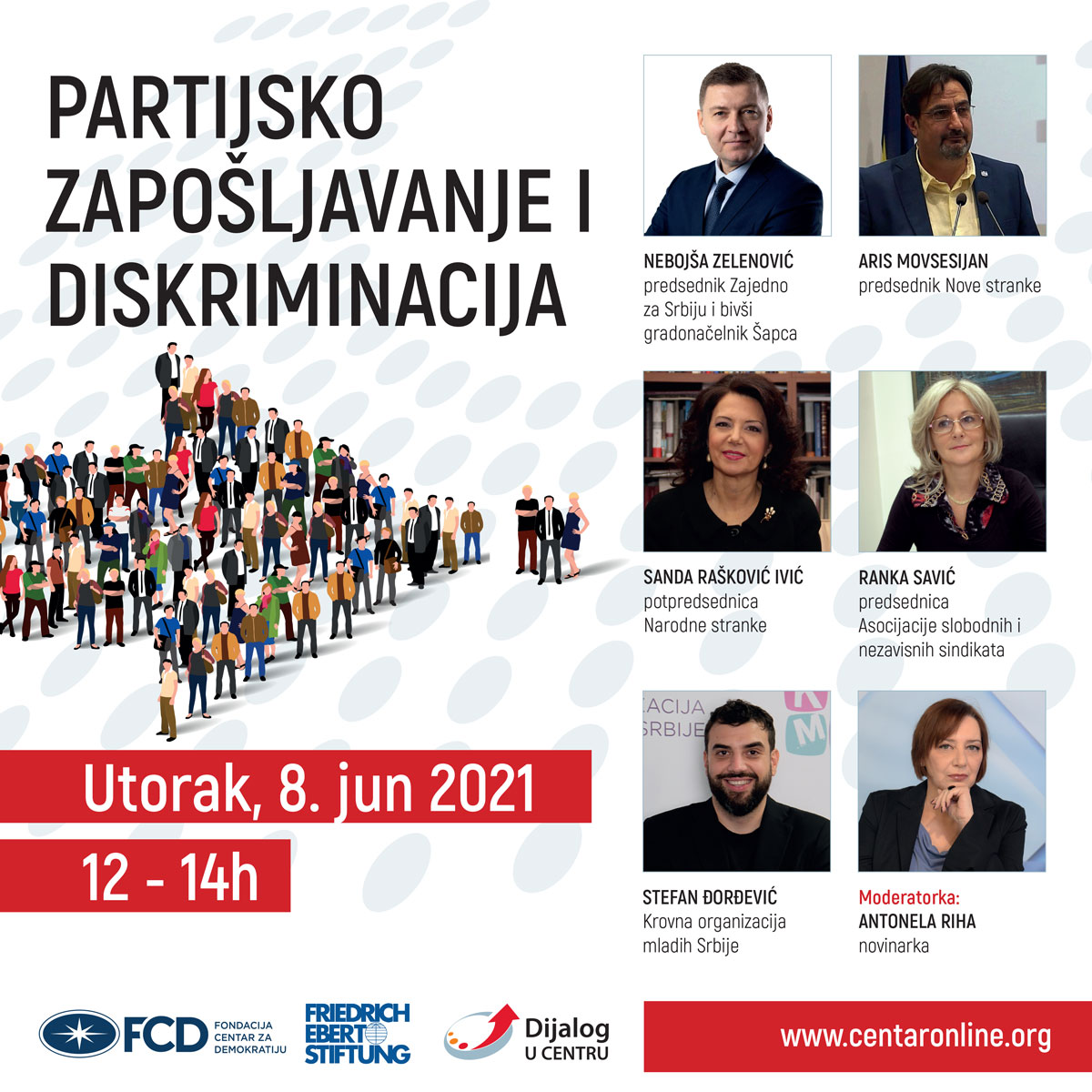 The Center for Democracy Foundation organised a debate entitled 'Patronage Appointment Employment and Discrimination'.
Over the past years we have witnessed the politicisation and polarisation of society in all spheres. The government boasts of a record low unemployment rate. The opposition, on the other hand, thinks differently. As this is going on, the Corona Virus Pandemic ensues. How do people gain employment these days? How many of Serbia's youths are leaving the country as they can't find work? How important is having party membership to finding employment? Is patronage employment just a myth or is it a reality? Has it always been this way or have things changed over time? What lessons have been learned by the European Union? Will the European integration process be able to change this state and how long will this take?
The debate was opened by Dr Max Brändle, Head of the Friedrich Ebert Stiftung Regional Office for Serbian and Montenegro and Nataša Vučković, Executive Director of the CDF.
Keynote Speakers: Nebojša Zelenović, President of Together for Serbia and the former Mayor of Šabac; Aris Movsesijan, President of New Party; Sanda Rašković Ivić, Vice President of the People's Party; Ranka Savić, President of the Association of Free and Independent Trade Unions; Stefan Đorđević, National Youth Council of Serbia, and the discussion was moderated by journalist Antonela Riha.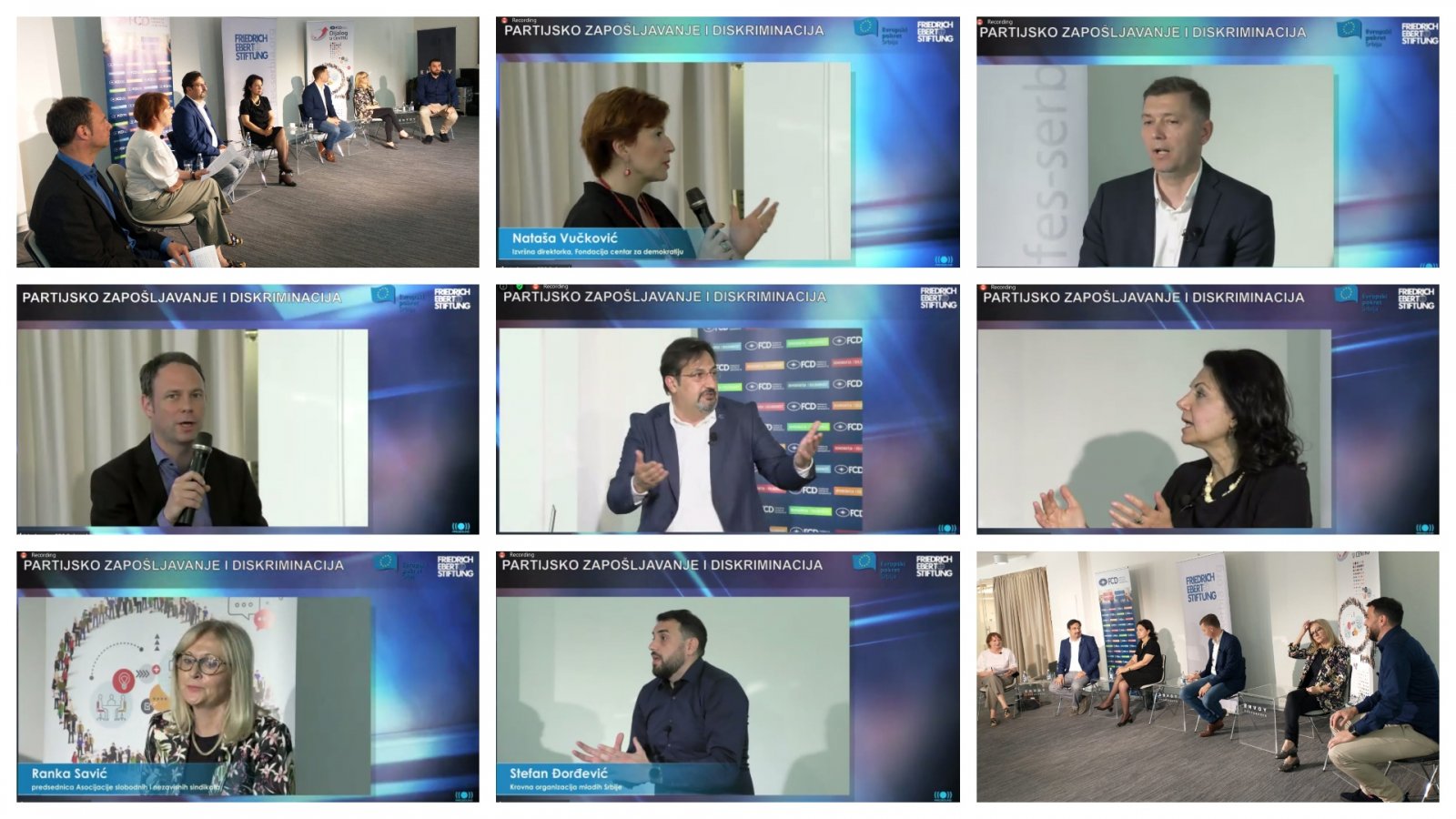 The Executive Director of the CDF, Nataša Vučković, emphasised that this is an important issue because of the crucial principles on which society is founded – non-discrimination, equal opportunity and access to economic resources. Patronage employment leads to the annulment of the principles of competence and competence, knowledge and education are key to the future of society.
"The debate intended to highlight the types of discrimination that go on during the employment process – patronage employment, that is to say, in addition to having the competence and know-how required for a certain job, employment is also conditioned by political affiliation. This may be direct – by requiring the candidate to join the party, but it may also have less direct forms, that is, it does not just apply to those seeking employment in the public sector, but private investment and the private sector are also subject to such conditions", said Vučković. She also added that an important issue is the manner in which we form our public administration as the European Commission often indicates in its reports the dangers of having a number of people in 'acting' positions or engaged via occasional contracts.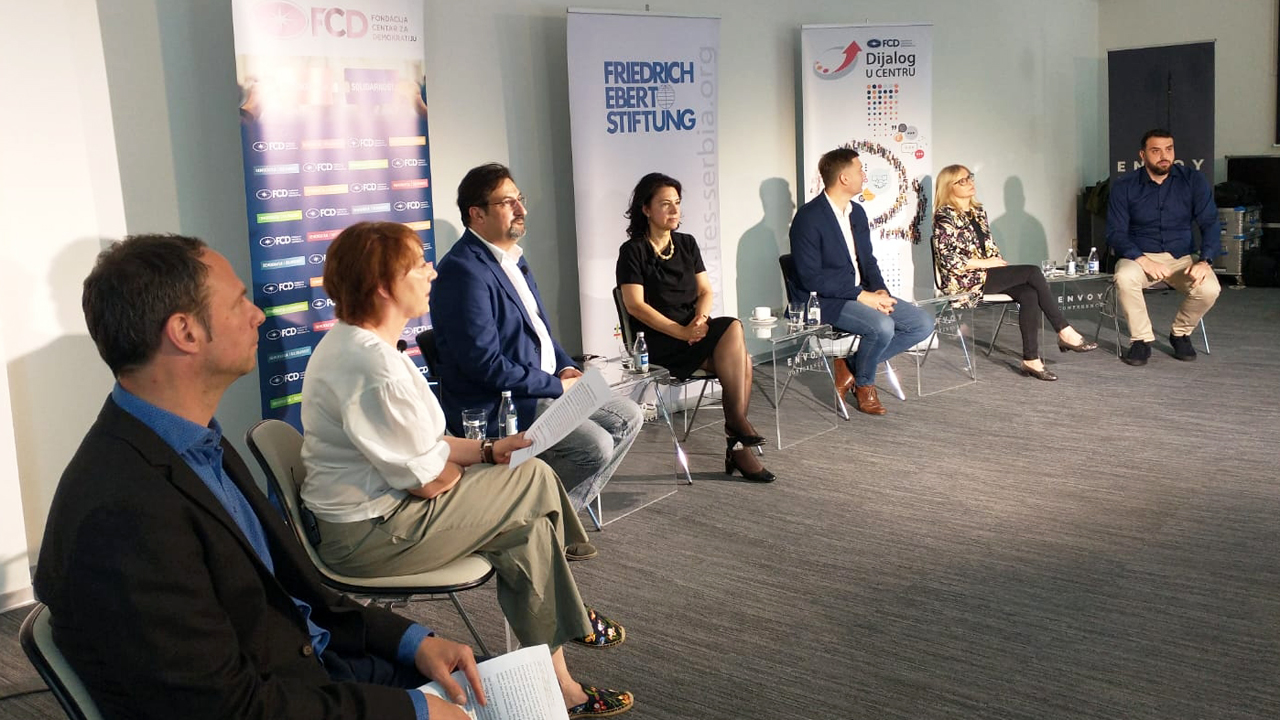 Together for Serbia's President, Nebojša Zelenović said that while he served as the Mayor of Šabac, there was no patronage employment and when he was removed from office, he was the only one. No one else was left unemployed, as no one had been appointed to office through patronage employment, said Zelenović, adding that the government is not there to be used to provide benefits to others, but rather to provide the people of the country with the services they require, and this is what is expected of us, and why the taxpayers pay our salaries.
President of New Party, Aris Movsesijan, said that patronage employment is not a new phenomenon, and a by-product of this type of employment is laziness. Once again, we have a one-party system, one party and one man on whom everyone depends, and we are publicly against this. In order for things to change in Serbia, we as a society will each have to leave our comfort zones i.e., every one of us will have to act.
The Vice President of the People's Party, Sanda Rašković Ivić said that patronage employment is not news, but that in the current system it has been brought 'to perfection', today working as a 'bot' is the most lucrative job available. The most important thing to understand is that this form of employment lacks competencies, and things are not done right. Competency today is not respected, which is a very dangerous thing. In Serbia, things will not change until the government changes.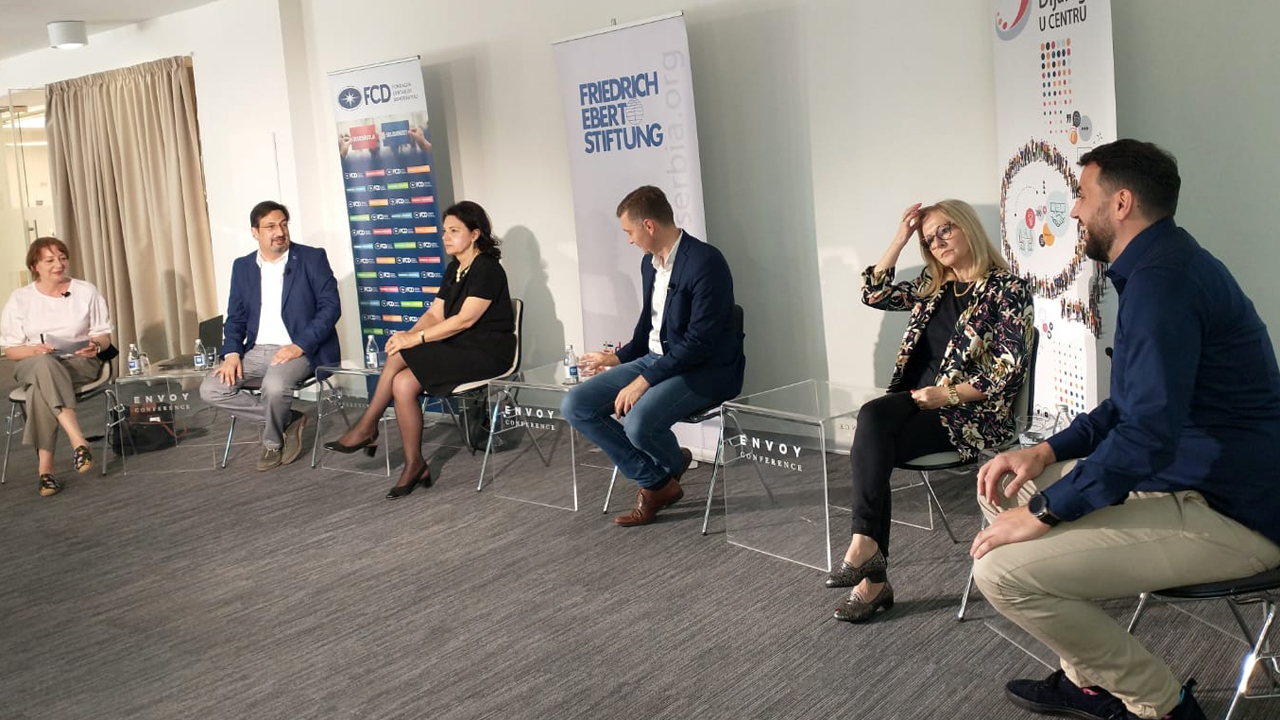 The President of the Association of Free and Independent Trade Unions, Ranka Savić described the patronage employment scheme according to which the current government came into power, and then moved onto its division. Functions are divided, publicly-owned companies, a prominent party official is brought in along the vertical axis, then come the activists. Those of us in the trade unions have lost all hope that patronage employment will diminish and it has become something that the population accepts as a must and thus the people no longer have faith in anyone.
Stefan Đorđević, representing the National Youth Council of Serbia, said that the consequence of patronage employment is that youths have no faith in the institutions and they see that party membership and a fake diploma are more valuable than a formal and informal education and effort. Two thirds of all youths want to leave as they can't provide for a decent lifestyle. Also, for the most part, youths abstain as they see politics as something 'dirty' and depraved.
We organised the debate in collaboration with the Friedrich Ebert Foundation through the project entitled CENTER DIALOGUE – SOCIAL DIALOGUE.
Center for Democracy Foundation
Media reports of the debate":

Partija kao poslodavac (FoNet)
Debata: Ljudima koji se partijski zapošljavaju nedostaju kompetencije (TV N1)
Partijsko zapošljavanje dovedeno do savršenstva (TV Nova S)
Stranački zaposleni ljudi bez kompetencija… (Radio 021)
Partijskog zapošljavanja je uvek bilo, ali ga je SNS doveo do savršenstva (Beta)
Video
'Patronage Appointment and Discrimination' Debate