autor/i: Vesna Marjanović
Information for the Public Benefit in the Era of 'Fake News Pandemic'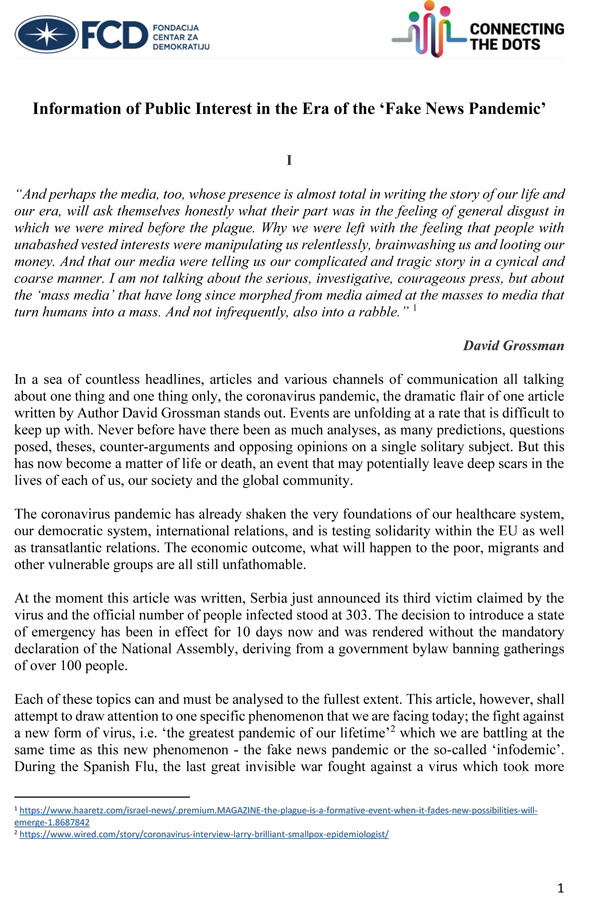 Vesna Marjanović is the autor of analysis of media and information in times of new phenomenon, pandemic of fake news or "infodemia".
"The coronavirus pandemic has already shaken the very foundations of our healthcare system, our democratic system, international relations, and is testing solidarity within the EU as well as transatlantic relations. The economic outcome, what will happen to the poor, migrants and other vulnerable groups are all still unfathomable."
"Events are unfolding at a rate that is difficult to keep up with. Never before have there been as much analyses, as many predictions, questions posed, theses, counter-arguments and opposing opinions on a single solitary subject."
You can also read about the effects a pandemic has on information, the uncertainity that the future brings us, and share this text with others
Center for Democracy Foundaction
This text is presenting the views of the author and does not represent the views of either the Balkan Democracy Fund or the Embassies of the Kingdom of Norway in Belgrade.
The text was written as part of a project funded by the Balkan Trust for Democracy of the German Marshal Fund of the United States (BTD) and the Embassy of the Kingdom of Norway in Belgrade.