EU Support to Serbia and COVID-19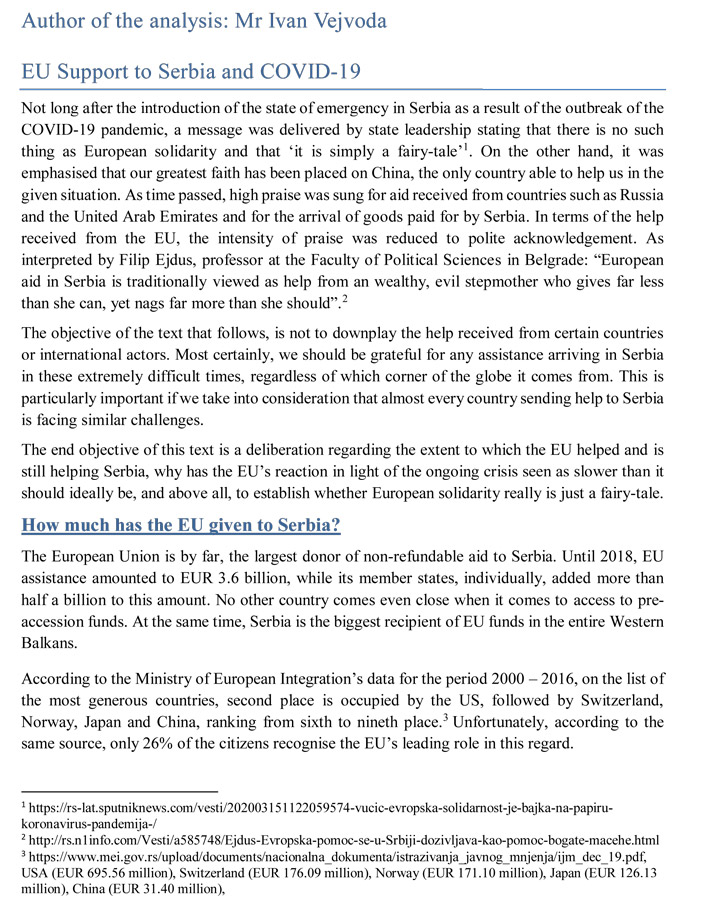 Analysis EU Support to Serbia and Covid-19 by Ivan Vejvoda
The end objective of this text is a deliberation regarding the extent to which the EU helped and is still helping Serbia, why has the EU's reaction in light of the ongoing crisis seen as slower than it should ideally be, and above all, to establish whether European solidarity really is just a fairy-tale.
The European Union is by far, the largest donor of non-refundable aid to Serbia. Until 2018, EU assistance amounted to EUR 3.6 billion, while its member states, individually, added more than half a billion to this amount. No other country comes even close when it comes to access to pre-accession funds. At the same time, Serbia is the biggest recipient of EU funds in the entire Western Balkans.
According to the Ministry of European Integration's data for the period 2000 – 2016, on the list of the most generous countries, second place is occupied by the US, followed by Switzerland, Norway, Japan and China, ranking from sixth to nineth place. Unfortunately, according to the same source, only 26% of the citizens recognise the EU's leading role in this regard.
This is the text that reflects the views of the author and does not represent the views of either the Balkan Democracy Fund or the Embassies of the Kingdom of Norway in Belgrade.
The text was written as part of a project funded by the Balkan Trust for Democracy of the German Marshal Fund of the United States (BTD) and the Embassy of the Kingdom of Norway in Belgrade.