The Tool For The Introduction Of The 'Leave No One Behind' Principle Into Legislative And Strategic Acts Of The Republic Of Serbia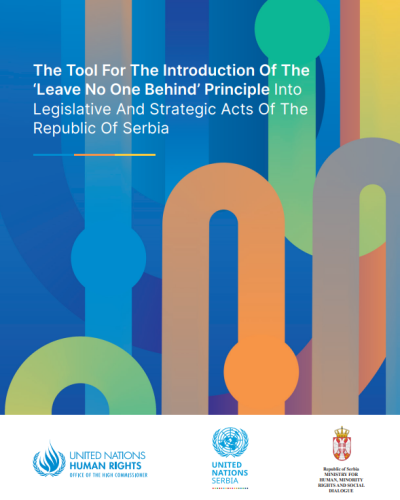 September 2022
The relevance of this tool is manifested in its provision of guidelines to decision makers in understanding and applying the human rights-based approach (HRBA) and the 'leave no one behind' (LNOB) principle in the forthcoming and future legislative and strategic acts of the Republic of Serbia. It provides clear guidelines for the implementation of the LNOB (Leaving No One Behind) principle in all stages through which legislative and strategic acts pass, thereby ensuring that the most marginalized and excluded groups are recognized and involved, including disadvantaged women and girls, who are usually among the most disenfranchised groups due to intersecting deprivations and multiple discrimination.
The tool was developed jointly with the Ministry for Human and Minority Rights and Social Dialogue and under the leadership of the UN Human Rights Team, Office of the UN Resident Coordinator in Serbia, and the Office of the UN High Commissioner for Human Rights and its Surge Initiative.
The purpose of the Tool is to serve various stakeholders in the processes of developing, adopting, implementing, monitoring, and evaluating fairer legislative and strategic acts, targeting the perceived issues, and securing substantive equality in Serbia.
The Tool is primarily intended for those developing and adopting legislative and strategic acts at all levels, as well as for all other stakeholders who are involved in their development in any way: independent institutions; the civil sector; experts and the academic community.
Source: https://serbia.un.org/en/200842-tool-introduction-leave-no-one-behind-principle-legislative-and-strategic-acts-republic