RYCE project completed!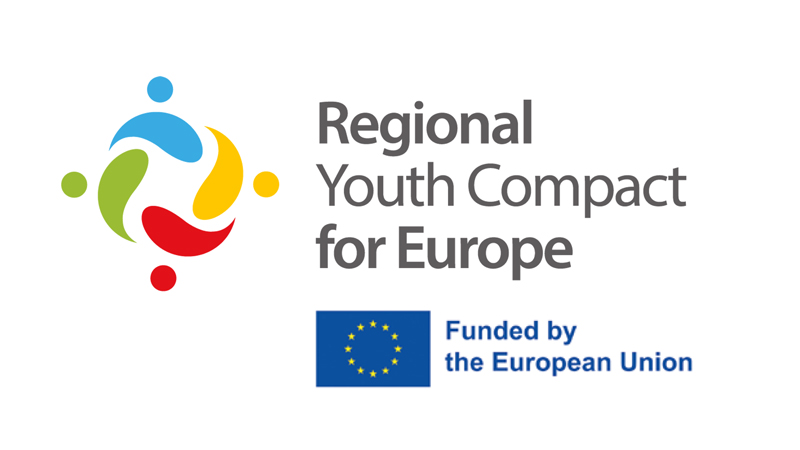 A three year regional project Regional Youth Compact for Europe (RYCE) came to its end in mid-2021.
The project Regional Youth Compact for Europe has started in spring 2018, when I met Stanka Parać, director of Local Democracy Agency Subotica who introduced me with the work of LDAs from the Western Balkans. During this meeting in Subotica, we agreed that a strong partnership between the CSOs with outstanding expertise in EU integration and the CSOs with a long - standing experience in working with local communities could become a consolidating component for the creation of a new regional thematic CSO network. That is how the Center for Democracy Foundation was pleased to accept this invitation to be the lead partner and how CRTA from Serbia, Youth Act from Albania and SODEM from Turkey became partners. This is exactly how this eventful and above all, adventurous journey started in spring 2018!
The unique quality of this journey was evidenced at the kick-off meeting organized by the European Commission in Brussels in June 2018, attended by all the lead partners of the projects which the EU supported within the program Consolidation of Regional Networks. Whenever I was introducing myself or was presenting our project to EC staff members, they were saying, with astonishment, "Oh, that is you with 14 partners on the project!" Although numerous consortium also seemed to me a bit complicated to manage, their reaction scared me. "Is it really going to be so difficult?", I kept on asking myself.
However, it turned out it was not that much difficult. In many ways, our three year- long journey became a life learning experience for all. We in the Foundation learnt quickly that all our partners were experienced in working with different donors as partners and as lead partners. And we discovered to which extent they are committed to the cause of local democracy and to the mission of both their own organizations and that of ALDA, the network to which all LDAs belong and which transferred a lot of organizational culture to LDAs in the region. Of course, this organizational culture is practiced with more or less zeal by different organizations, but it certainly shapes LDAs work. So, we got to know each other and our joint work started.
We had identified two major target groups – CSOs, including our network members, and youth organizations. Our objective was to empower them, connect them and encourage them for greater role in monitoring reforms, in structured dialogue with governments, both on local and national level. We focused on two areas that are crucial for the citizens – the first one includes issues belonging to the chapter 23, democracy, rule of law and fundamental rights, and the second one which relates to social dimension of the EU integration process – employment, social policy and fight against poverty.
Our key activities were undertaken in LDAs communities, as well as on the regional level, such as Politeia School or Youth Fund "We have a Say". We advocated for acceleration of reforms, for inclusive dialogue among stakeholders, for active citizenry, and for regional cooperation. We promoted European values and presented EU assistance to the region.
The outbreak of the Covid19 pandemic happened in the second year of the project, when the most of our activities at local level were planned and when the project team had to react promptly in a well - coordinated manner. This meant that we started learning new skills and adjusting to the new reality of digital platforms and online events. However, along this turbulent times and waves of pandemic, we lost our dearest colleague and friend – Sasa Marinkov, Delegate of LDA Knjazevac. His contribution to this project, his politeness and a coaching role he had in our personal lives will always be remembered.
Key achievements of this three-year project that all the partners would certainly agree on, are the following ones:
Through this and active citizenship.
CSOs in the Western Balkans were empowered to increase their participation in the reform process which will bring us closer to the European Union, to participate in a public dialogue and influence politics
We brought the process of EU integration closer to citizens: Thousands of citizens on local level, in various parts of the region, were involved in debates, workshops, forums, conferences – benefiting from a variety of tools and channels for dialogue with policy makers, businesses, civil society organizations or they were approached by our products – newsletters, media appearances, social networks…
Hundreds of young people from all over Western Balkans participated in the activities – learning a lot, debating even more, exchanging knowledge and practice, starting initiatives, creating projects…
Local youth organizations from the Western Balkans received grants for their respective projects which brought valuable results to their local communities
Politeia School became a regional program and a digital platform for development and education
Balkan Network for Local Democracy was officially registered as a network and it strengthened its capacities and expanded its experience and outreach
ALDA and its members have reiterated their presence in the Western Balkans.
These three years of our working together were certainly an empowering experience for all of us. The lessons learned and the experience collected will be the basis for our future endeavors. And, certainly, we will not mind big consortiums with such excellent partners.
Nataša Vucković, Executive Director of the Centre for Democracy Foundation