Webinar: Discrimination of the Elderly and the 2030 Agenda
Sustainable Development for All Platform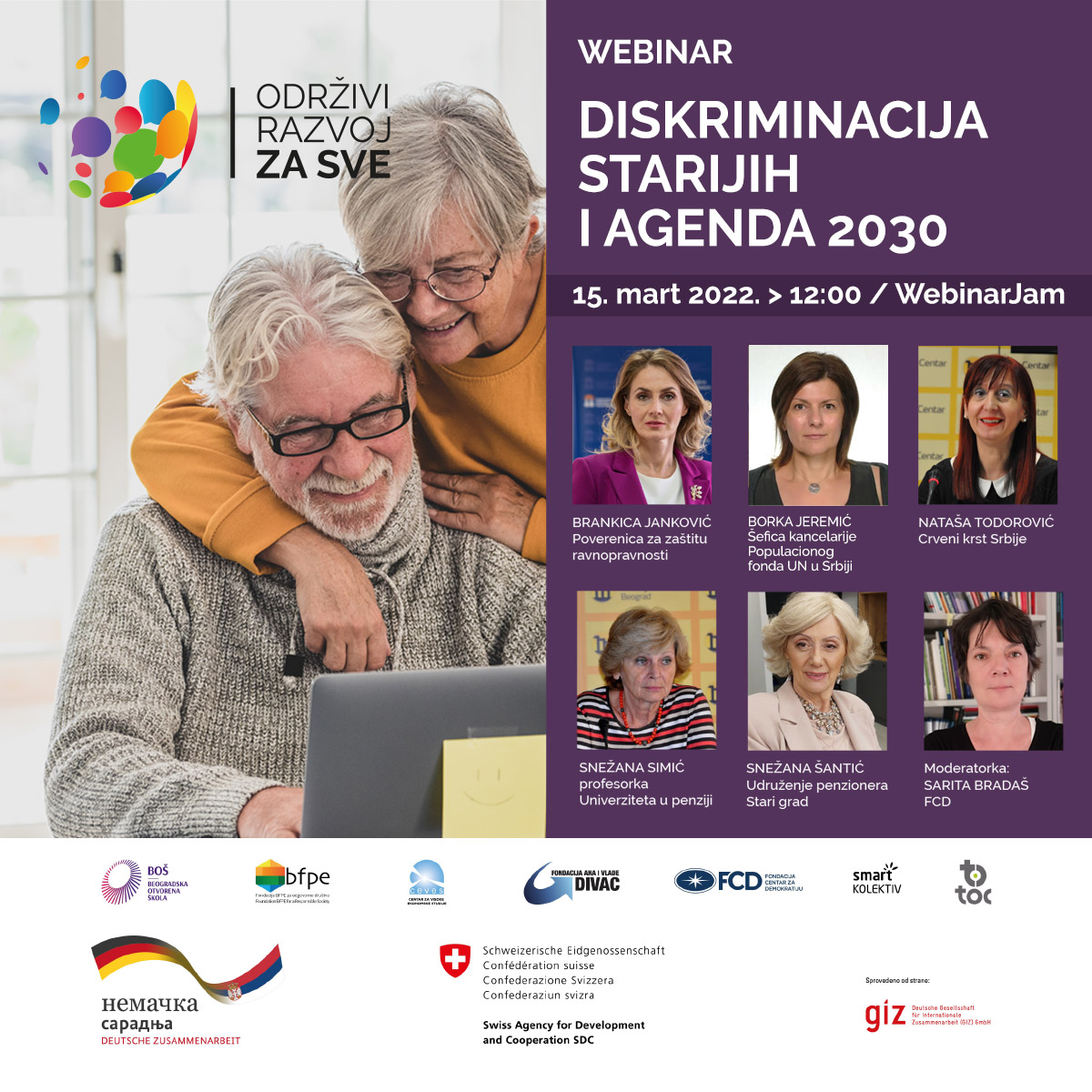 The Center for Democracy Foundation, part of the social pillar of the SDGs for ALL Platform, organised a webinar Discrimination of the Elderly and the 2030 Agenda on March 15.
The webinar featured Brankica Janković (Commissioner for the Protection of Equality), Borka Jeremić (Assistant Representative and Head of Office at United Nations Population Fund - UNFPA), Nataša Todorović (Red Cross Serbia), Snežana Simić (Public Health Expert) and Snežana Šantić (Association of Pensioners - Stari Grad) as keynote speakers and Sarita Bradaš (Center for Democracy Foundation) as the moderator.
One of the key messages was that preparing for economic and social shifts associated with an ageing population is key to achieving 2030 Agenda. It was also emphasized that ageing should be seen as a horizontal issue, reflected in multiple SDGs: poverty eradication, sound health, gender equality, economic growth and decent work, reducing inequality, sustainable cities, etc.
However, the elderly are more often than not excluded from development policies as well as public discourse and for that reason, implementation of the 2030 Agenda should be seen as an opportunity to address exclusion, vulnerability and issues concerning the discrimination of the elderly, in line with one of the core principles of sustainable development leaving no one behind.
To ensure that we achieve all the goals set forth in the 2030 Agenda, it is vital that we prepare for economic and social changes relative to ageing. We need to create the necessary conditions that will allow the elderly to lead independent, healthy and productive lives, and to empower this segment of the population in terms of their ability to make decisions and choices concerning all areas of their lives.
The "SDGs for All" Platform enables a broad discussion among the Serbia's non-state actors, including civil society, corporate sector, academic and research community, media and the citizens, on aligning Serbia's development priorities within the objectives of the 2030 Agenda for Sustainable Development.
The "SDGs for All" Platform is supported by the Governments of Switzerland and Germany and implemented by GIZ, within the project "Public Finance Reform – 2030 Agenda".
Video: https://event.webinarjam.com/go/replay/189/68313bxruywan6a6
Center for Democracy Foundation